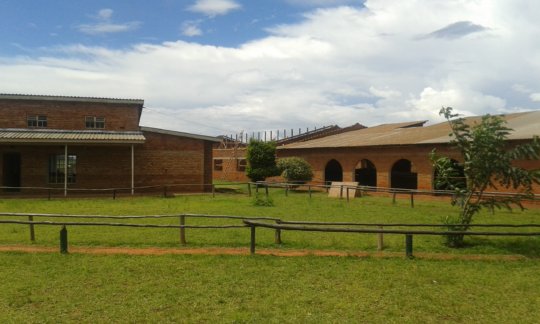 Hi Wonderful Supporters!
We hope this email finds you well. We are making steady progress across the board and the most exciting update is that construction of the secondary school has officiall begun!
BUILDING DEVELOPMENT:
We have officially broken ground on construction of the Secondary School, which the entire community sorely needs and parents have been rallying for for years. Work on the foundation has started, but heavy rains have slowed progress.
If money permits we are going to start stock piling bricks, but are in need of more of them to complete construction of the walls up to window level. The good news building-wise is that we have managed to pay of our debt for the iron sheets for the hall...this is over a year late. As many of you can recall, we were hit with a terrible storm that ripped the roofs off of our primary school and we needed to rebuild immediately or shut down the school. Generously, the local roofers gave us roofing materials on credit with little to no interest and we were able to get the school back up and running in record time. But this did set us back by a year and created substantial damage - especially to the library. We lost nearly all the books that we had slowly accumulated through generous donations over the past ten years. Our volunteers are looking into book donation programs to repopulate the library.
We have started building the trusses to get the roof on the hall, but the rain and lack of capital are our enemy and the brick walls are starting to erode and we really need to find a way to protect them or complete construction.
ACADEMIC DEVELOPMENT:
We have three new wonderful teachers who have almost finished their probation period. We are very excited to have them join the BeeHive Community, as they are really top notch. And finding and training good teachers is at the core of our school's mission.
All the teachers are doing a really great job and we have been careful to keep the classes small and manageable. It can be difficult right now to keep class sizes small because we really need capital to build the secondary school, but we make a point of choosing to keep the class sizes small despite this economic pressure because the key to a good education is small class sizes and more one on one time for each students with the teachers.
MENTAL MATH COMPETITION:
We are trying to organize a mental maths competition this term, but we are having trouble getting support for this endeavor, as there isn't isn't much money floating around in Mzuzu or Malawi these days for these sorts of endeavors.
COMPUTER TRAINING:
Computer training is a priority this term, but we can't currently afford to employ a full tile IT teachers. We really need more of the teachers to be trained on the computers - maybe we can find some volunteers or a foreign teacher to come do a sabbatical here. The good news is all the teachers are excited to learn about the computers, but we need someone to train them. We are also working on finding more open source curriculum to improve the current content in the computer lab.
Wishing everyone the very best! Thank you for your support - we couldn't do this without you.