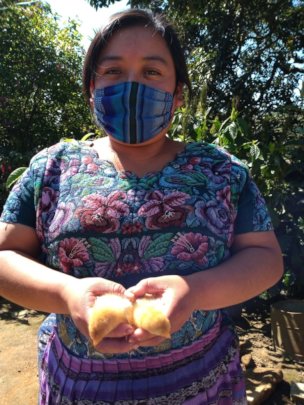 2020 has been a challenging year for all of us, to say the least. However, all of these unforeseen difficulties have not stopped the Community Finance Guatemala team from finding ways to continue to support the 15 communities we work in. As you know, towards the beginning of the pandemic we responded by providing helpful information about the pandemic to the families we support --- some of whom don't have television or internet access. We encouraged them to wash their hands regularly, keep a safe physical distance and always wear a mask when around other people.
Along with the informational support, we also helped them to start their own home gardens by providing them with seed packets and instructional pamphlets. Their gardens have flourished this year and the multiple harvests of leafy greens, cauliflower, radishes, and more, have greatly supplemented their typical diets of corn tortillas and black beans. As the weeks passed and the pandemic showed no signs of going away, the local team came up with a new idea for increasing the food security of the families: egg-laying chickens!
After shopping around at nearby farms, the team found a great deal and purchased more than 1500 chickens to distribute among the families. Each family received about six baby chickens and a few pounds of chicken feed to get them started.
One of our Community Finance Advisors, Doña María, who is always thinking about ways to promote sustainability in the communities, came up with a simple chicken feeder design made from recycled two-liter bottles. As the team visited the families, they facilitated short workshops on how to make the chicken feeders, best practices for raising chickens, and how to plan their small homesteads to be as sustainable as possible.
Now, as we look ahead to 2021 we are seeing potential to continue along this same path towards greater resiliency. We have big plans to help our families achieve greater health financially, physically, mentally, and emotionally. From new projects such as designing composting chicken coops to new workshops on holistic stress management. We believe the incredible resilience of the families we work with will provide a solid foundation upon which they will continue to develop themselves and their communities in 2021 and beyond.