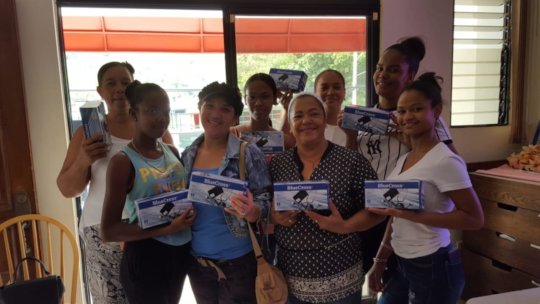 Rather than us telling you how well the class is going this year, we decided to let some of the students tell you themselves! Here are what they said when we asked them what they think of the Community Health Leadership course:
Patricia: I've loved this course because I've learned so many new things that I hadn't known - things that are important and apply to our everyday lives. My classmates are excellent, and I know that I can ask any one of them for any favor and without a doubt they would help me. I've felt very comfortable and I thank God that I've understood each lesson perfectly. I liked getting to learn to take blood pressure measurements because it's something that I know will help me and the people in my community.
Yanelis: I feel happy with my professor, Dra. Yerky. I've learned a little about everything, but learning to give vaccinations has been my favorite lesson.
Genesis (16 years old): First of all, I thank Father God for giving me the opportunity to participate in Project Hearts. I have very much liked the course because I've learned much more than I had known before and the classes that have most interested me were on women's health, taking blood pressure, and giving injections. I'm grateful for all of my classmates for being so kind and for the professor, Dra. Yerky, thank you for everything! I would like to continue participating more, and whatever you might need from me I am at your service. [to give you all a better sense of her sentiments, you should know that Genesis used a lot of emojis in her message. :) ]
Dismailyn (14 years old): I have loved this course because I have learned so much, all of it important to share with our families and communities every day. I feel great and comfortable. I really liked the classes on taking blood pressure and giving injections because these skills will help me in my community. I'm very grateful. [Dismailyn also used a lot of emojis in her message. :) ]
Paola:To me the CHL course is like a school, but I find it to be very important because it teaches about how one needs to know themselves and how to take care of our health. And I like my professor, Dra. Yerky – she explains the topics very clearly. [A little context: Paola is 16 years old and dropped out of school, but is now attending classes on Saturdays to work towards getting her HS degree, and we think the comment about the course being "like school, but important" means a little more knowing her background.]
Blanca: I have liked the course - I've learned a lot of things that I didn't know before. I hope that the course continues so that many others can continue learning so they can offer help to those who need it. Thanks to the professor for her time and for everything she taught us. God bless everyone.
We're so proud of these ladies and how they're already using their new knowledge to improve the lives of their families and communities!