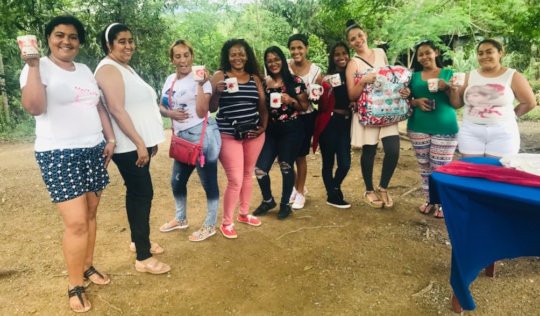 On May 17, 2021 our 2020 cohort of Community Health Leaders took their final examination.
I was nervous for them, and expecting their scores to be lower than usual.
The course has started just before DR went into quarantine due to COVID-19; they then spent months without lessons. Then the group spent a few more months receiving pre-recorded classes virtually. They weren't able to visit their neighbors to share the information they were learning. When in-person training finally resumed, the women had to wear masks and maintain distance as much as possible. There wasn't as much opportunity to develop the bonds of friendship that usually form within most cohorts.
All in all, the odds were against this group of 9 women being as successful as other groups we've had.
As is often the case, though, the common adversity they face made these women stronger and more dedicated.
One of the last lessons given taught the ladies how to give injections. Most practiced on oranges, but a few of the braver students also practiced on their fellow classmates. The next day several participants wrote to their group to share their success in giving insulin shots to their neighbors. They weren't letting COVID stop them from serving their communities with their new knowledge.
In addition, whatever friendships this cohort wasn't able to form in person, they made up for in their group chat. I've never seen any other group communicate as actively as this one – they are constantly sending encouraging messages (as well as teasing jokes) to keep each other smiling and inspired.
And lastly, every single student scored 90 or above on their final exam, demonstrating their determination to master the health information that they know will benefit themselves, their families, and their communities.
Rather than being one of the least successful cohorts, this group has turned out to be the highest achieving.
We're proud of all out graduates, but this group has truly blown us away. Well done, ladies!