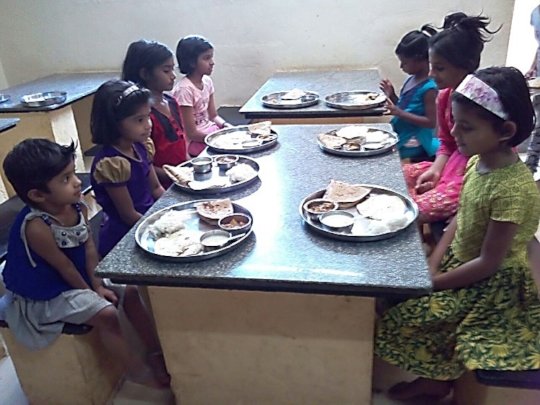 Social Action for Manpower Creation - SAMPARC was started in 1990 with the aim to provide proper Education & Care to the poor orphan underprivileged Children, Children of socially victim women, convicted people and other disadvantaged needy children to prepare them sustainable in the main-stream society with Dignity.
SAMPARC children's Home, Bhaje, situated at the footsteps of famous Bhaje Caves, near Lonavla which is home for 137 orphans, poor and needy Girl Children.
SAMPARC started its activities from this centre and is working since last 27 Years for the care, upbringing, education and rehabilitation of these children and every year SAMPARC has successfully helped the children achieve their dreams by providing them right environment, care, guidance, nutritional support, family atmosphere, training in sports and extra-curricular activities.
The Children's Home is working under the guidance of Mrs. Ratna Banerjee, Trustee and Coordinator of the Project along with Project In-charge Mr. Subash Bongarde, Counsellor, Social Worker, Housemothers, Tutors, Sports Instructor who works passionately for the children.
The main Objective of Child-care is to provide them Nutritious Food to overcome Health related issues, mal-nutrition which they got due to poverty and lack of care before they came in SAMPARC.
Children are served balanced diet which includes right proportion of Pulses, Grains, Vegetables, Sprouts, Leafy vegetables, Fruits and Milk as their daily intake.
The Menu prepared is as per the recommendation of the Doctor. The regular diet of each child consists of 200gm Wheat, 150gm Rice, 40gm Pulses, 50 gm Sprouts, 200 gm Vegetables, 200gm Chicken (every Sunday) 2 Eggs (every Friday) along with 200ml Milk every day in the evening along with seasonal fruit like apple, banana, orange, Papaya, Watermelon etc.
Also, children have special breakfast every Sunday like Misal Pav, Idli Sambhar, Pav Bhaji etc. Food Committee of the children (Bal-Panchayet) plays an important role to select Menu.
Food is prepared by the Kitchen staff in the clean kitchen and the quality of food is tested every day by the Project In-charge.
Also, children are served food in a clean environment in the dining hall by the housemothers. Also, housemothers give attention whether the children especially younger ones are having their meals properly. The kitchen & dining area and the storeroom are sanitized and are always is also kept clean.
The children's Home is equipped with Water purifier and children are provided with clean and safe drinking water.
The overall health of the children is good. A part-time doctor takes care of the general health aspects of the children.
Weight and Height of each child are measured every month and documented.
Apart from Proper Nutrition & Good Health, the emphasis is given on Education & Skill Development of the Children.
They regularly attend school. Special Tuition is provided for better learning. Children who are slow-learners are getting special attention. They are provided Library with books as per the interest of the Children.
The Children are also learning basic level Computer to be Computer literate.
There are Special Education Classes for Spoken English, General Knowledge, Reasoning and Maths.
Sports and Yoga instructors are there to encourage the Children towards Sports & Games to make them fit and active.
Children who are interested – attend classes for Singing, Dancing and Drawing.
Children also attend Workshop for Craft Work and various sessions of Confidence Building, Personality Development and Career Guidance.
During Vacation, all the Children enjoy Picnic, Excursion and Exposure visit.
All the activities have become possible with the support of our Sponsors, Donors and all other like-minded People.
As per present market rate, every day we spend Rs.50/- per Child to provide them Nutritious Food. We are conducting Drive to reach to all the Kind-hearted people who believe in the Cause and can extend their Helping Hand.
We appreciate Your effort towards the Development of the Underprivileged Children at SAMPARC Balgram - Bhaje.
Please visit SAMPARC Balgram and Bless the Children.
Looking forward towards Your Kind Association and Support in the coming days ahead.
Thanking You,
Yours sincerely,
Amitkumar Banerjee
Founder Director / Secretary
SAMPARC – Social Action for Manpower Creation