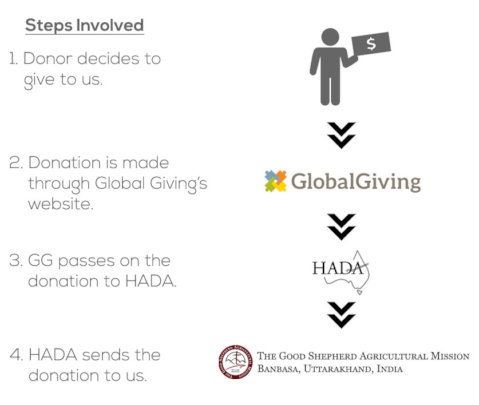 Hey everyone,
As one season rolls into another, as one crop is harvested and another is planted, life here at the mission continues its beautiful, challenging perfectly imperfect unfolding. This time of year, the weather begins to cool, evening mist returns to shoud us all in a bit of mystery, and Christmas preparations are already underway. Throwing a party for 150 is no small task.
As we appraoch the end of the year, we would like to thank you all for your continued support. For our monthly donors, we can not tell you what this kind of regular contribution means to us. For our one-time or seasonal donors, your generousity is equally appreciated.
We do want to highlight one technical concern that you may or may not be aware of.
As a donor to one of our campaigns, you will have received a notice from GlobalGiving recently. They've been having difficullty tranferring money to us due to changes in Indian regulations. One line in this communication really stood out to us and perhaps it did for you as well. (The "issue" in question is the abiity to transfer money.)
GlobalGiving is working hard to address the issue, but there is a chance that we will be unable to disburse funds to this project. If we cannot disburse funds, your donation(s) may be reallocated to another organization per our terms and conditions. If this happens, we will contact you again with additional details, including the option to select an alternative project.
We want to assure our supporters that the donations you've made and are continuing to make through Global Giving are safe and secure and will eventually reach us. There is no need to cancel sponsorships or stop donations. Until GG works things out with the Indian Government we are working to be able to divert funds to India through Health and Development Aid Abroad (HADA), a registered non-profit in Australia that we have been working with for over 11 years. HADA has helped us raise hundreds of thousands of dollars for the constuction of our school and many other projects on the mission. It might take a few weeks to set up but we are confident it will allow the funds to come here safely and securely.
Until then we will have to be prayerful and careful in how we spend what little savings we have left. Work may slow down, but it will continue. Perhaps this is a good excuse for many of us to catch our breath and prepare plans for the next chapter of this incredible journey that we are on together.
We hope this information will help to soothe any worries you may have. Should you have any further questions or concerns please do not hesitate to contact us. We appreciate your incredible support so much.
Kind regards,
Clifton Shipway
Deputy Director
The Good Shepherd Agricultural Mission
Links: