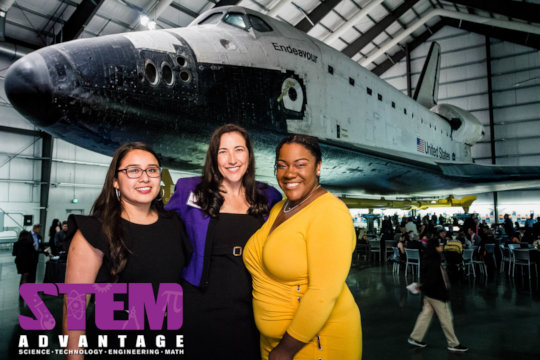 This quarter we have been busy helping 125 STEM Advantage Scholars find a paid summer internship. Internships are a win-win. They provide students real-world experience and an opportunity to develop their technical and soft skills. Internships provide businesses a pipeline for diverse entry-level technical talent in science, technology, engineering and math (STEM).
We are proud to highlight STEM Advantage Alumna MaryLiza, who graduated from California State University, Dominguez Hills, in May 2018, with a bachelor's degree in Computer Technology with a focus on Homeland Security. Today, she is an Information Technology Security Specialist for the Air Force Civilian Service.
An excerpt from the story she shared at our 2019 Scholarship Gala …
"…through my STEM Advantage internship, I was able to connect the knowledge that I was learning with real world application and who would have thought I knew so much. They told me to just be myself and everything will fall into place. There they taught me to not hold myself in a bubble and that I can reach any goal that I want if I just work hard at it. Right now I'm applying for my Master's in Cyber Security, so let's hope your girl gets in, but for real because of people like you, your mentorship, the job opportunities and financial support I will not only be making my dreams come true but I'll be working to make all of y'all lives safer.
Without STEM Advantage I wouldn't be here, and this field needs me because not only do I look different from others who do this, I think differently and without diversity of thought we can't solve the security problems for tomorrow. With that being said, thank you …for believing in me that day. You guys work so hard, you will never understand how much it changed my life. I also want to say thank you to everybody in the room that has ever opened or will be opening their hearts and checkbooks to support STEM Advantage. Thanks everyone, I look forward to saving your assets someday."
Please join us and invest in talented students like MaryLiza. Student debt is a huge issue. With your support, we help "level the playing field" for women and underserved communities who have talent, but do not have the same opportunities and networks as students attending private or elite public universities.
For more information, please visit www.stemadvantage.org or email Lee Ann Kline at leeann@stemadvantage.org.
Links: