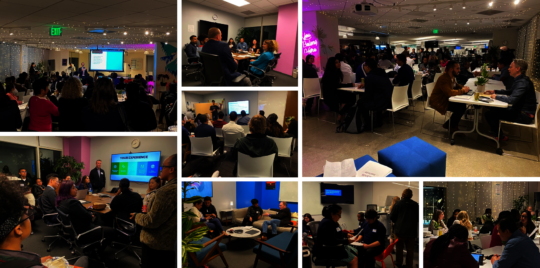 In Fall 2019 we selected our 2020 cohort of STEM Advantage scholars, which includes 125 talented students earning bachelor's degrees in science, technology, engineering and math (STEM). We are thrilled that 50% are women! We also added a sixth campus. We now offer our program to women and underserved communities attending Cal State Dominguez Hills in South Central Los Angeles, Cal State Fullerton, Cal State LA, Cal State Long Beach, Cal State Northridge, and Cal Poly Pomona. California State University ("Cal State") is the largest and most diverse public university system in the U.S.
During the students' winter break, hiring managers and talent leaders came together to help the Scholars prepare for Spring interviews. Sessions included one-on-one mock interviews, resume reviews, IT careers, consulting 101, technical/coding interviews, LinkedIn profiles, creating your brand and storytelling, networking 101, and negotiating skills. Plus, there were opportunities to practice networking and build community throughout the evening.
Students told us Career Night had a direct impact on their ability to be better prepared for and more confident in all aspects of the job search and interview process.
Special thank you to participants from Accenture, Amazon, Belkin International, County of Los Angeles, Deluxe Entertainment Services Group, FabFitFun, Farmers, Google, Heidrick & Struggles, Laserfiche, Lionsgate, Magenic, Monarch Landscape, NBCUniversal, Pivotal, Sony Pictures Entertainment and Viking Cruises.
A huge thank you to the team at Pivotal Labs, who hosted the evening, generously provided a great venue and food, and gave each student a book to help with their job search.
If you are reading this and want to get involved, please contact leeann@stemadvantage.org. We need:
- paid internships in the Los Angeles area
- mentors as our scholars are low-income first-generation college students. Having a mentor makes a difference
- funds for scholarships to help us scale our program to support more students and add more campuses.