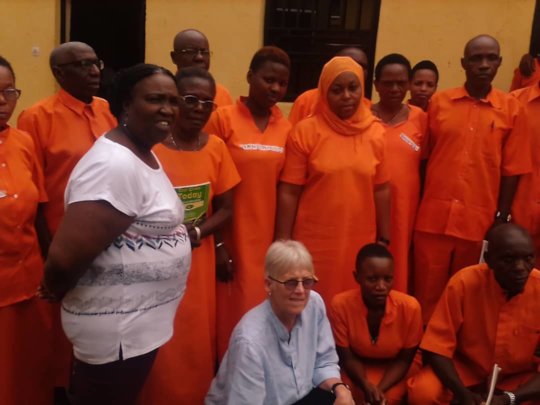 This report gives updates about Friends Peace House's efforts to equip inmates through Transformational mediation. This report covers the period between 19th November, 2019 and 15th February,2020
In the previous report the following were the changes we expected:
Training 50 new inmates in December 2019.
Carrying out 4 more workshops.
On 20th December, 2019, Friends Peace House received 1,236 USD from GlobalGiving. This motivated us to train more prisoners and prisoner's guards and prison staff than planned. Eighty new prisoners from Ngoma and Musanze Prisons have been trained and 53 prison staff (Guards and other prison workers) have been trained. In the follow ups done, we found that sometimes there are disputes between the prisoners and their guard or prison staff; we noticed that it is not easy for a prisoner to interpose between a prisoner and a guard or staff person and that prison staff need skills that will help them to live peaceful with inmates without harm or conflict. This is why Friends Peace House decided to train some prison staff so that they can cooperate with inmates to resolve disputes that may arise between prisoners and prison staff. We have trained 53 guards.
From 19th November, 2019, 133 persons (67 females and 66 males) were trained as follow:
- From 2nd - 4th December,2019 : 20 female inmates of Ngoma prison
- From 16-18 December, 2019: two groups were trained simultaneously in Musanze prison located in Northern province of Rwanda, one for Inmates (30 mixed inmates: 15 females and 15 males), another for prison staff (9 females and 19 males)
- From 27th -29th January,2020: 30 new prisoners from Musanze prison were trained (16 females and 14 males)
- From 4th -6th February,2020: 25 prison staff were trained ( 7 females and 18 males)
From the beginning of the project, Friends Peace House trained 169 people detailled as follow:
-11 facilitators (5 females and 6 males)
- 76 female inmates
- 29 male inmates
- 53 prison staff ( 16 females and 37 males)
Total: 169 (97 females and 72 males)
All the training done from 19th November, 2019 Friends Peace House used both pre and post-test to evaluate the knowledge before and after the training. This helped Friends Peace House to evaluate the quality of our workshops. We are confident that our facilitators are experienced and qualified to provide workshops of good quality.
We are very grateful to Ms. Curci who helped a lot with fundraising and assisted our facilitators in the last trainings. We are very gratul for her interest in mediation work.
A quote from one of the prison staff we trained: "Transformational mediation is an amazing program, because it helps a lot in restoring broken relationships.Transformational mediation is not only providing skills to mediate for people, but also helps people to avoid and prevent conflict."