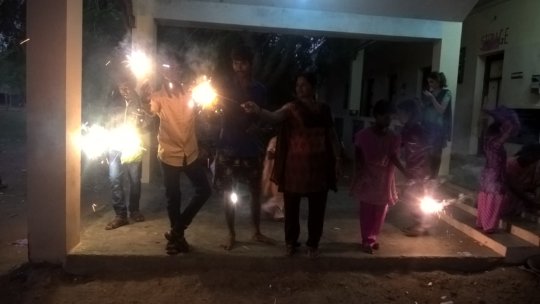 Greetings, from Blossom!
Much has happened since our last report update. On October 29th Dayspring celebrated Diwali, the festival of lights. The event is one of the major festivities in Hinduism, and can last over a period of up to five days.
Here at Dayspring, we had a day of feasting, and a night full of fireworks with the children. We started bright and early with showers, and followed with dressing in our new outfits for the holiday. The boys and girls were all very happy to show off their styles! After dressing up, a breakfast of parotta and chicken curry was shared. We call this special early morning meal, idly. Snacks were eaten throughout the afternoon, up until we dined on biryani, dosas and chicken puri through the evening for dinner. Afterwards, halwa sweets were enjoyed by all the children before they went outside to shoot off fireworks.
The essence of Diwali comes out at night, when the sky is lit up with colors as far as the eye can see. Firecrackers and sparklers brought lots of smiles to the children, as they played with them into the late hours. Lots of dancing, laughter and fun! What a memorable time of the year here in India. This celebratory day would not have been possible without sponsorship from our generous donors, which allowed us to purchase the clothing, fireworks and ingredients for our meals.
Now transitioning into winter, the children at Dayspring have been very busy with work on our 10 acre farm. The last few months have been a time of harvest and cultivation. The gardens are filled with many different varieties of roses that fill the air with beautiful aromas, and the soil has been replanted with seedlings. On our farm we produce a variety of fruits and vegetables on-site, which educates the children of sustainability practices, while allowing us to yield a bulk of our food.
We are gearing up for a progressive new year ahead of us. 2016 has been abundant in growth and development, only made possible by our generous donors. Thank you to all our friends for your continued support.