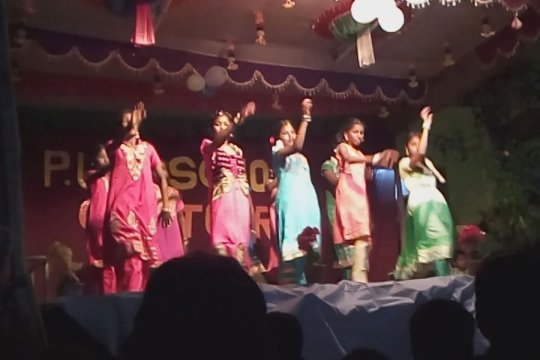 Hi everybody!
Summer vacation is nearing its end here at Dayspring Home, and a lot has happened in the mean time.
Dayspring Home
Cameras
We have installed 4 new security cameras at Dayspring Home. The safety and protection of the children at Dayspring is our number one priority and an ongoing project.

Volunteers
The volunteers at Dayspring have painted a map of the world on one of the walls. It has the names of the continents and oceans so it is educational for the children but also has numbers on countries where volunteers are from. At the bottom of the map there is a list of the countries and the names of all the volunteers we have had at Dayspring Home. It is a great way for the children to learn their countries and remember everyone in our Dayspring Family.

Children
Childrens' Fest
In March we celebrated children at the college in Virudhunagar. We were taken to the college on a bus early this morning, along with children from another home, and spent the whole day celebrating and playing with the other children and students at the college. There was music, dancing and all sorts of games, including musical chairs, ball throwing and balloon games.
The children of Dayspring Home were amazing and got involved at every opportunity. They all went on stage and introduced themselves at the start of the day and every child was dancing on stage at some point. I have never seen such energetic dancing; I think we have a future dance group with Kutti, Ravi and Hari. At one point the children were also invited on stage to sing Tamil songs. A few of the girls had a go and did really well. Dhana and Vallar sang together and the young girls were on stage dancing to nearly every song. Vallar also sang a song, the microphone broke halfway through his song so he sang without and the room was silent. At the end of the day some of the children got called on stage to get prizes, such as pencil cases and water bottles, for their exams. They were really pleased.
The children really enjoyed the games and having so many people around. It was a great day for everyone.
Annual Day
Also in March was the Annual Day's celebration at Chittoor School. It started with speeches from teachers and prizes for children who have done well in school and sports. Some of the Dayspring Children who got prizes wereHari, Prakesh, Ravi, Santhosh, Esaki, Sanjena, Dhana, Nandhini and Munneswari.
After the prizes the dance performances began. The children were practicing and preparing for weeks and were so excited. Every childwas involved in at least one dance but many did two or three. They all really enjoyed themselves and were amazing on stage. It was a great evening and very fun to watch. We got home late Friday night with tired, but very happy children.
Kodaikanal
Sunday the 23rd of April, almost all children went on holiday to their villages. All exams are finished and it's time for summer break. The children have worked so hard, mornings and evenings, to get good grades on their final exams. As the heat is rising they definitely deserve a break. A few children will spend their holidays here at Dayspring Home and we aimed to make it special for them as well. We discussed the possibility of going to Kodaikanal, a cooling hill station with amazing scenery. Three days later we were on a van heading towards the mountains. While driving on very steep roads and too many curves, we could all feel the fresh breeze through the windows. At Kodaikanel the children rode horse, rowed boats, went to several viewing points, walked in a national park, visited markets and a playground, and enjoyed a flower park.
It was an amazing trip with lots of laughter and one night in a hotel with an incredible view. It was their first time going to Kodaikanal and we believe they will cherish this trip for a long time.
Farm

Goats
Dayspring home has had great success in breeding goats again. In March, we have had seven babies born and expect. The seven kids (that's the name for a baby goat!) are doing really well and growing very fast. The breeding programme will continue to maintain a healthy flock population.
Other
On the 24th of March it was World TB Day. Blossom Trust, with the support of a few other organisations, arranged a day of raising awareness about TB. Some of the children and volunteers of Dayspring Home got dressed up as clowns and went in the car to busy areas of Virudhunagar, such as the train station, market square and bus station. The car was then covered in posters about TB, and the clowns walked around the town handing out leaflets with facts and information about treatment. This was a great way to inform people about the disease, as it was enjoyable as well as informative. The clowns caught the attention of the public and did a great job at handing out all our leaflets.