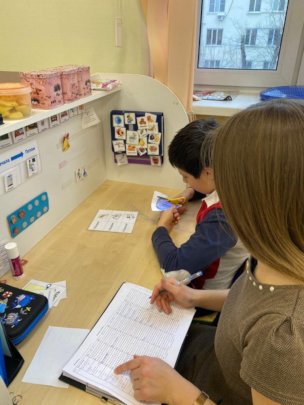 Marat's story.
Doing arts&crafts has never been a simple task for anyone, especially for a child with special needs!
At the beginning of training, Marat faced many obstacles: he did not understand the frontal instructions and could not grasp the idea of completing tasks, being able to orientate himself on the actions, poorly developed motor skills, lack of self-regulation. The long duration of the lesson did not help Marat to concentrate.
But guess what! All these skills were formed, developed, and fixed by the tutor, whose work is paid by your donations!
The tutor worked individually with Marat on the development of excellent motor skills such as: developing writing skills with different writing instruments on various surfaces; the ability to cut materials of different densities with scissors, from short lines to angular shapes.
Tutor combined the simple instructions he could follow and worked out the sequence with Marat. With all this work, it was essential to develop the ability to sit for a longer time period during the lesson, gradually increasing the time for an individual lesson from 15 minutes to 45.
Now Marat follows the frontal instruction of the teacher, performs a specific part of the assignments independently, and follows the rules of behavior at the lesson! Win-win-win!
Of course, without the assistance of the tutor, it is difficult for Marat to get involved in the craftsmanship process, keeping up with his peers. Still, the tutor's work on developing the child's skills continues every school day and always needs our attention and support!
Thank you for your donations! They help children not to be left out.