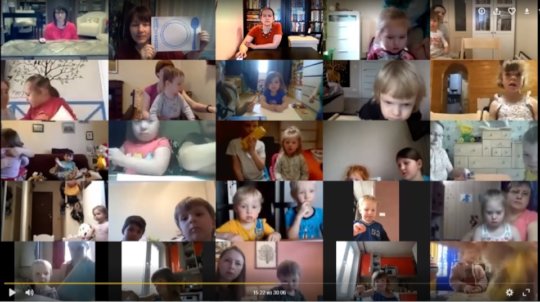 These days the kindergarten "Our Home" keeps working remotely.
Teachers and tutors have mastered using zoom and other media resources to support children and their parents during sheltering at home.
Remote activities with children are indeed a necessary measure though they can neither replace live communication or give timely feedback.
But this format of classes has some advantages as well:
1. Children have the opportunity to see each other and teachers, to communicate, to participate in joint activities. It is essential to talk, to talk with children, to ask what they did today, what was interesting, what was funny, etc. It is vital to fill the lack of communication.
2. Parents have the opportunity, with their own eyes, to assess the level of readiness of the child to perceive the material, to see its strengths and weaknesses, to understand what could be worked on.
3. Online classes provide an opportunity to apply new forms and methods of teaching. For example, appointing a leader of the group, who thinks over the topic of the lesson, calculate what material to prepare for the children, and seriously prepare the day before with the help of their parents, which is essential for self-organization and programming activities. Besides, children gain the experience of speaking to the audience, and they learn to clearly and correctly formulate the idea and, of course, they get a significant experience of their success.
This experience can be viewed as useful, and each lesson becomes open, teachers carefully prepare selected material, parents see the work of teachers.
Educators of "Our Home" later will be able to conduct classes with children who are often ill or have rehabilitation courses, if they miss kindergarten. And it is our responsibility to support educators now, so they can welcome children when the pandemic is finally over!