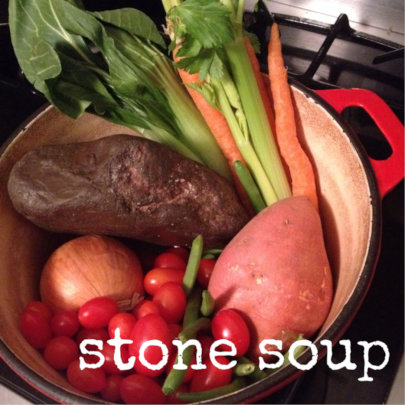 Some travelers come to a village, carrying nothing more than an empty cooking pot. Upon their arrival, the villagers are unwilling to share any of their food stores with the hungry travelers. Then the travelers go to a stream and fill the pot with water, drop a large stone in it, and place it over a fire. One of the villagers becomes curious and asks what they are doing. The travelers answer that they are making "stone soup", which tastes wonderful and which they would be delighted to share with the villager, although it still needs a little bit of garnish, which they are missing, to improve the flavor.
The villager, who anticipates enjoying a share of the soup, does not mind parting with a few carrots, so these are added to the soup. Another villager walks by, inquiring about the pot, and the travelers again mention their stone soup which has not yet reached its full potential. The villager hands them a little bit of seasoning. More and more villagers walk by, each adding another ingredient.
Finally, the stone (being inedible) is removed from the pot, and a delicious and nourishing pot of soup is enjoyed by travelers and villagers alike.
Such a little story with a very big moral. When we share, if even a little bit, the whole community benefits. Friends, your donations are extremely important to us and they are a blessing; each and every one! There is no donation that is too large. No donation that is too small. Each donation goes into the pot to create a glorious soup of sorts.
Three Precious Miracles is not creating a soup but is creating HOPE for families; creating small miracles every single day with supplies and support. Through your donation large or small, Three Precious Miracles can continue to bless the elders and kinship families with what they need to start their parenting journey all over again and our children can begin to heal. Will you consider contributing to our "POT" through your donations or by sharing this message? If we each give a little, we can create a HUGE POT OF HOPE. Whether you choose to be a single ingredient, a full pot, or a special seasoning, we thank you for your gifts, thoughts, and blessings.