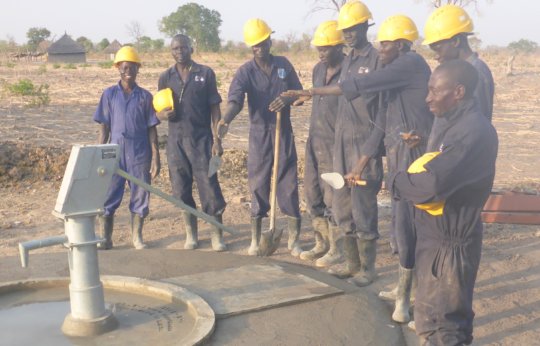 Water for South Sudan's (WFSS) 2016-2017 drilling season is successfully underway. Although the media reports of unrest in South Sudan are real, WFSS's team is safe and able to continue drilling wells in remote rural villages in South Sudan.
The WFSS compound is located in Wau. There are over twenty NGO's operating in Wau and none of them have considered evacuating their employees or their equipment. WFSS leadership in South Sudan receives security reports from NGO Forum Security Focal Point, an ACTED organization. If there is a situation where other NGO's are evacuating the WFSS team will evacuate to an NGO assembling point, or other safe place.
In addition to WFSS, some of the other NGO's operating in Wau are:
United Nations Mission in South Sudan
World Food Programme
World Health Organization
UNICEF
Medicine Sans Frontiers
OXFAM
To date this season, WFSS has drilled 11 new wells and rehabilitated 16 wells drilled in previous years. The need for rehabbing some of WFSS's earliest wells arose from an evaluation of 80 wells conducted by a WFSS team in 2015. The team discovered that while all of the wells were operational, many of the wells had cracked and broken cement platforms caused by animals drinking from the well. To rectify this, in 2016 WFSS redesigned the well to draw animals away from the pump to a drinking pool. In addition, WFSS is now using bentonite, a stronger substance, for the well platforms. Several years ago, WFSS began conducting hygiene training in every village where they drill a well. This season WFSS added a second hygiene team to travel with the rehab team to provide hygiene training in villages where our earliest wells were drilled.
This season, WFSS has rehabbed a borehole drilled in 2007 in Boul, a village in Alabek County Tonj State. Yar is a woman living in the community of Boul. Yar spoke with the WFSS rehab / hygiene team, noting the positive impacts on the community as a result of clean water and hygiene training. Yar pointed out that the lives of human beings have improved because everyone has access to safe drinking water and many families have improved their personal hygiene practice. One of the most significant indicators is the reduction in Guinea Worm Disease, diarrheal disease, Bilharzia, and Typhoid. Yar stated, "Since 2011 we have not seen one person in the area affected by Guinea Worm."
Yar also spoke of changes in village lifestyle as a result of having clean water, "before the well was drilled only four people went to school, the number has increased to 26, including nine girls." Yar applauded WFSS, "the villagers of Boul are grateful to WFSS and to the donors who contribute to life-supporting projects to safeguard the life of South Sudan's rural population."
Thank you to GlobalGiving and to all of you who have contributed to this project. WFSS is 100 percent privately funded, receiving no revenue from either the US or South Sudanese governments. Without you, the WFSS team would not have the capacity to bring safe, clean water to people like Yar and the Boul community.
Since 2005, WFSS has installed 293 borehole wells and conducted hygiene in villages. The wells become the property of the villages, who are responsible for maintaining the wells.
Links: