Dear Friends of Water for South Sudan (WFSS),
It is my pleasure to share this report on our work in South Sudan. Since 2005, WFSS has installed 282 wells, providing more than 250,000 people with access to fresh water every day. During the 2015-2016 drilling season WFSS installed 23 new borehole wells in remote, rural villages in South Sudan, serving approximately 15,000 people who previously did not have access to clean, fresh water. In addition, in each village where WFSS drilled a well our hygiene team educated villagers on best hygiene practices.
Aruel Ayuel is a 28 year old woman living in Bookanyara village. Bookanyara lies between two streams. Villagers used to access water from the stream via a hand dug well. Aruel said, "We always feel sick, with runny nose, fever, stomach pain, and itching throat after drinking water." In 2014, two people were taken to the Carter Center to be treated for guinea worm.
WFSS drilled a well in Bookanyara and provided hygiene training. Villagers no longer get drinking water from a hand dug well. Villagers now know to boil and filter water before drinking if it becomes necessary. They have learned how to keep the well water from becoming contaminated by washing their hands and cleaning jerry cans.
Aruel Ayuel said, "I agree to follow good hygiene ways and drink clean water everyday. Thank you Water for South Sudan."
As the WFSS operations team gears up for the 2016 - 2017 season they are looking to further improve our processes and the sustainability of wells. In response to our 2015 well evaluation the US and South Sudan operations teams studied and improved the cement platforms around the wells. The new design:
Strengthens wells with a more robust concrete composition.
Eliminates animal contact with the well or platform.
Reinforces drainage channels, susceptible to weather erosion and animal traffic.
Directs animals to drinking pools farther removed from the well heads.
"We know that we have a much better process now," says US Operations Director and Board member Don Fairman. "Greater sustainability of our wells means that in the long run we'll be able to help even more people as our wells last longer and have fewer breakdowns."
WFSS has been an advocate for the people of South Sudan since our founding in 2003, and we continue to support development in the world's newest nation. WFSS began drilling wells in 2005 and we have never wavered from our mission: to deliver direct, transformative, and sustainable quality-of-life service to the people of South Sudan by efficiently providing access to clean, safe water, as well as improving hygiene and sanitation practices in areas of great need.
We joined the world celebrating South Sudan's independence in 2011. We are disappointed that the latest conflict, which broke out in 2013, has continued. Along with the people and nations of the world, we condemn the violence and corruption in South Sudan and support a peaceful resolution to the unrest. WFSS is more committed than ever to our mission, knowing that our work will help bring stability in this emerging young nation.
WFSS's US-based Executive Director is in contact with our team in South Sudan daily to ensure that they are safe and able to continue drilling wells. WFSS Founder and Senior Advisor, Salva Dut reports that "The political unrest has not impeded our team's ability to work in the field. In a country about the size of Texas, the rural villages where we drill are far away from the conflict. Being South Sudanese, our team has a great advantage - we know the people, the language, the culture, and the tribal issues. We have family and friends in South Sudan. We are all committed to rebuilding our country."
On behaf of Salva and our team in South Sudan, our Board of Directors, volunteers, and staff, thank you for joining us in bringing fresh, clean water to the people of South Sudan.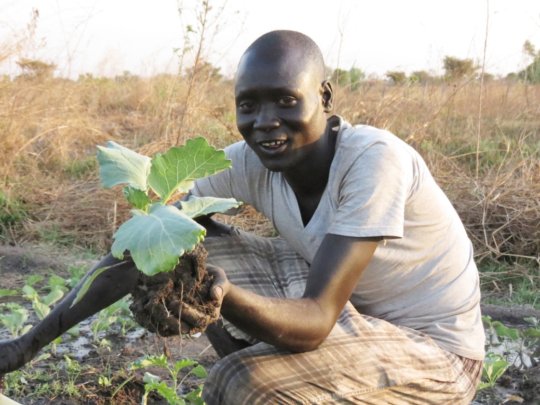 Links: