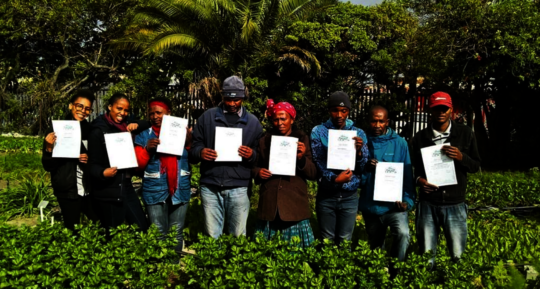 Dear Global Giving Friends,
Our three day training course on basic home gardening is steadily expanding the network of home gardeners in the Cape Flats - every two weeks. Food security remains a pressing issue in Cape Town's informal settlements and townships. Growing own food at home or at community gardens is a push toward self-sufficiency.
Included here are two pics showing graduates holding their certificates of completon from our three day training course. As you will see they are made up of both men and women and even young people , all of whom either have no employment or who (in the case of the young folks) come from households where no one is employed. Unemployment rates in the areas where we work are in the region of 30%-40% and it is such people who we target.
In South Africa there are social grants (child support grants and pensioner grants) but these are only small amounts of money - about 86 USD per month/person which does not go very far in a household of an average of 5 people, even if there are more than one people getting these grants.
So learning how to garden becomes an important survival strategy for such people.
Your help continues to allow us to offer our training to the unemployed.
To those of you who have donated once off and also to our loyal repeat donors,
Thank you for your support!
Best regards
Rob Small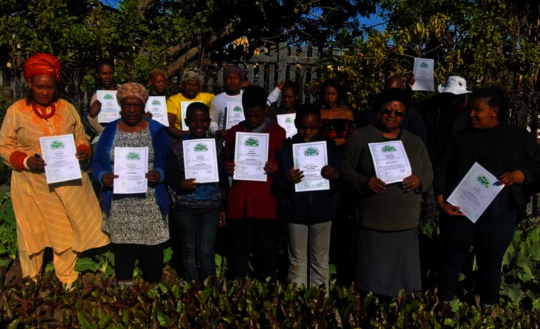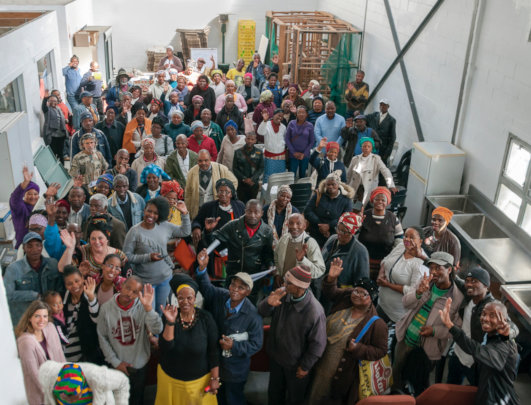 Dear Global Giving Friends,
Im happy to show you a few pictures of our farmers and the result of their hard work. One picture is of a farmers meeting which you will see is a big meeting. Mixed in the large group you will notice a couple of europeans who are members of our staff.
The next picture is of some farmers in their garden which is one of the approximately 50 community gardens that we support. Their garden is looking healthy and fresh despite the very bad drought we experienced this summer.
The last pic is of the produce from the gardens which we then sell for the farmers through our Harvest of Hope marketing arm. The Harvest of Hope marketing arm is almost covering all its own costs from a small percentage that it takes from the sales of the farmers veg.
Please remember that our community gardeners also produce fresh vegetables for their own consumption and what they earn from sales is used to support their households. Please also remember that without their gardens they would be unemployed and underfed.
We are very proud of our farmers who survive and thrive despite all odds and who set a shining example far and wide for others to follow.
We are grateful to you for the wonderful support you all give without which we would not be able to continue to train new farmers and improve the skills of the existing ones.
Thank you once again and best regards
Rob Small- resource mobilisation support for Abalimi Bezekhaya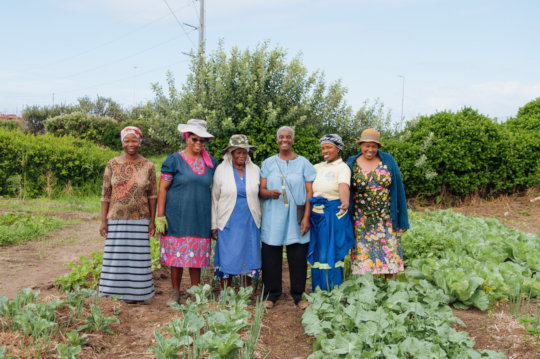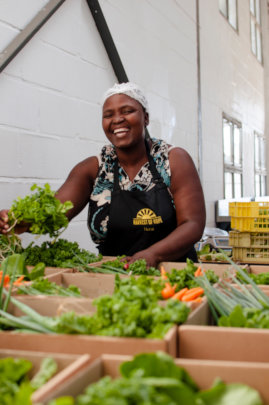 Links:
Dear GlobalGiving Friends
Please find attached our latest annual newsletter with the theme pruning and regrowth. We have been through a harsh drought in Cape Town and many of our farmers suffered the effects but most continued against all odds.
The front page story pics were posted in the last project report but in the newsletter is also the story of how this garden was established and grew its first burgeoining crops. The rest of the newsletter features one of our farmer meetings and some of the new young farmers who have joined the movement.
I hope you enjoy reading the newsletter and thank you most sincerely for you ongoing support.
Best regards
Rob Small
resource mobilisation support for Abalimi
Attachments:
WARNING: Javascript is currently disabled or is not available in your browser. GlobalGiving makes extensive use of Javascript and will not function properly with Javascript disabled.
Please enable Javascript
and refresh this page.