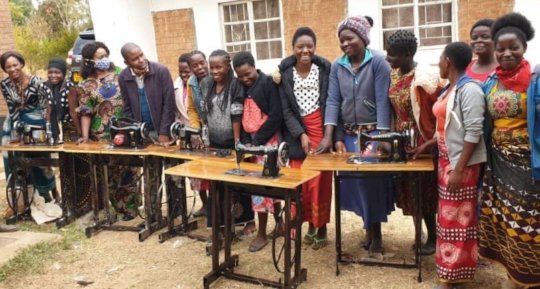 Teach a man to fish and he will eat for a lifetime.
Teach a woman to start her own business...and she will get to work supporting herself and her family, creating jobs, and solving her community's problems. She will later pass on the knowledge she has received, training others in business expertise or vocational skills, propelling and perpetuating a cycle of positive change.
One such inspiring entrepreneur is Selina. The Flame Tree Initiative works directly with entrepreneurs like Selina in two ways. First, our signature Development Entrepreneurship Lab provides training, networking, and basic tools for enterprise success. Secondly, we run the Development Entrepreneurship Studio, a year long mentorship and business incubator program. Selina has completed both programs and is the founder of the Mptamlenje Foundation, Entrepreneurship and Education Institute. She succeeded thanks to her own inspiration and dedication, and the tools and mentorship we provided.
When they come to us, our entrepreneurs already have ideas for improving the quality of life in their communities. By improving food security, increasing access to education, optimizing agricultural yields, or improving women's access to the jobs and resources men often dominate, these ideas have the potential to create sustainable development. The ideas put forth by Malawian entrepreneurs for solving Malawian problems are home-grown and self-empowering. By providing mentorship, networking, skill training, and business expertise to Malawian entrepreneurs, we empower Malawians to take control of their own lives and futures. Social entrepreneurs are uniquely situated to help not only themselves, but also their wider communities.
The Mptamlenje Foundation exemplifies how our work is changing lives by starting a chain reaction of development. The foundation takes a holistic approach to community building and provides a whole host of functions including education for primary students, vocational training in tailoring, traditional fashion design, soap making, and catering. Mptamlenje foundation is also in the process of setting up a local library and building a much-needed informational hub. Selina is proud and motivated, constantly adding to her enterprise's repertoire of functions. When Selina won a grant for her business, she invested the money in five sewing machines. Those machines are now used in fashion and tailoring training, directly employing some and training others to go start their own businesses.
Entrepreneurs like Selina make our job incredibly rewarding. Her work is impacting the lives of countless people in Mzimba who can transform their community. By investing in our training systems, our Development Entrepreneurship Lab and our Development Entrepreneurship Studio, you are investing in the lives and ideas of individuals who will go on to spread that wealth of knowledge and capability a thousand times over.