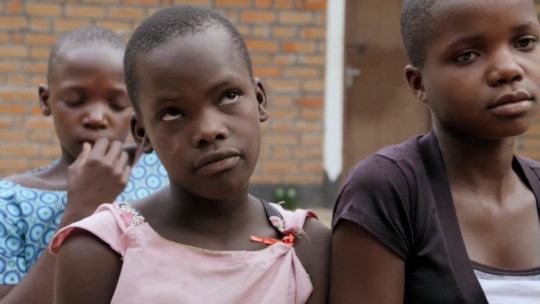 Since Healthy Tomorrow got the money from Global Giving, we have gotten our anti-female genital mutilation (FGM) messages out through the media. What is not already done, of what we promised, is in the works.
The trailer to "In the Name of Your Daughter" has come out twice on RTFM Tropic, one of the main TV stations in Mali, on December 5 and 7. The other 3 showings will happen later, to space them out a bit. This trailer (and film) shows how girls are being protected from families that aren't yet in agreement, in Tanzania, that already has a law against FGM. We show this to give Malians an idea of what is possible. Here is the trailer in English (we show it in French in Mali): https://www.youtube.com/watch?v=xt3XdU0Fddo. This is a still from the trailer, of girls being sheltered at the Safe House.
We've made contracts with 2 radio stations, Radio Guintan and Radio Tabale, for them to play our anti-FGM songs at least 24 times. The stations usually play them more often than they are required to, since many DJ's believe in our cause. We will make the third contract soon.
In November, we put our 15-minute video of legislators speaking out against FGM on RTFM Tropic, twice for money and 3 times for free. We also put the 30-minute version on the same station twice for the price of once, since the director of the station is a staunch allly in our struggle. Our Malian partners at Sini Sanuman got many calls of congratulations after these videos played on TV. This is the first time well-known legislators have been on TV talking against FGM. Here is Fatima Niambali, President of the Parliamentary Commission on Violence against Women, saying we need a law against FGM, in the video.
The 3 billboards are erected in Bamako. They show a frightened girl and say "Let's Stop Excising! Excision hurts the health of girls and women."
We are in the process of getting the music videos on TV. Here is an example of one of them: https://www.youtube.com/watch?v=hnQlGIyQJqI The rest can be seen on our website, StopExcision.net.
Thank you all, so much, for donating to make this possible.