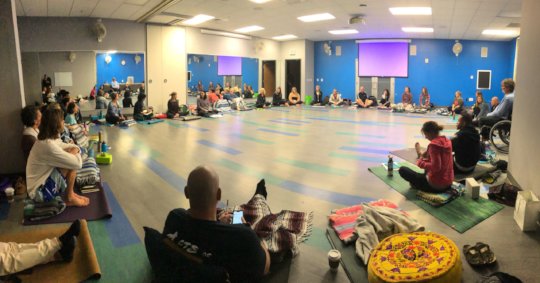 Because of COVID19, Yoga 4 Change had to cancel 90% of all programming, moving the remaining 10% to virtual classes. As many of you know, our programs are implemented into facilities such as jails, schools, recovery centers, VA outpatient clinics and community centers by highly-trained, trauma-informed yoga teachers. Many of these facilities closed programming from outside providers or were not able to support virtual programming, which put our organization into financial uncertainty. On March 26th, I had to tell our statewide team, comprised of 5 full-time employees and just over 50 different contractors, that we could not guarantee our contractors any work delivering programming to our students. All program classes across the state were then taught by our full-time employees, myself included.
My goal was to get our contractors back on our schedule by May 6th. To do so, on top of teaching no less than 12 classes per week, Yoga 4 Change leadership accomplished the following:
·
Obtained funding to compensate 100 different yoga teachers:
We partnered with a donor to compensate both yoga teachers on Y4C's team, and across the country, in order to create virtual content for our YouTube Station.
·
Applied for $102, 613.03 in relief funding:
Yoga 4 Change was able to secure the PPP loan and a grant from GlobalGiving, extending our financial 'runway' and allowing quite a bit of stress to be lifted for the short term.
·
Increased collaborations with local community:
During the last couple months Yoga 4 Change has focused on partnering with local businesses also affected by COVID-19. As opposed to only focusing on what is best for our organization, we have been able to positively impact local restaurants and artists, putting money in their pocket and sharing what they are up to with our own community (and raising some money along the way).
·
Scale our impact:
Having leadership quickly pivot our business model into the virtual environment allowed us to partner with new entities: Teach for America, VyStar Credit Union, Humana, and Seeds for Success. This increase of impact has led to new opportunities and most importantly, the ability to bring our proven methodology to new individuals. Through virtual programming we have been able to reach individuals who are going through a pandemic and who need tools and techniques to deal with everyday stressors.
·
Ensure outcomes were still being hit based on data and shift as necessary:
Many of our programs are judged on obtaining outcomes, and leadership focused on ensuring we could reach our goals without sacrificing the integrity of our program. We had to be flexible (pun intended), and also ensure our organization came out of this time period still functioning as we had in the past.
Without the Yoga 4 Change board, our leadership team, our teachers and other contractors, our donors and volunteers - these accomplishments would not be possible. Thank you to everyone who donated, shared, liked, watched, subscribed, prayed and believed in us.
On May 6, we were able to bring back our contractors. This allowed a large portion of our teaching team to get back on the schedule and allowed Yoga 4 Change to assist these teachers in getting back on their feet financially. Although we do not know what the coming months will look like, I know I have a team around me who is able to pivot at a moment's notice and still maintain the integrity of Yoga 4 Change programming. We have proven the strength of our organization, ensuring we are able to be here for the foreseeable future.