Throughout December there were four volunteer groups to make a lot of work for the dogs in all the shelters.
Starting again with building roofs. A small team was in Bucov but they were very effective.And one of the romanian workers helped on the last day to fix the last roof. Incredible!
Also the volunteers placed in some kennels tiles, gravel and doghouses.
Straw was delivered and all the volunteers distributed a lot of straw in the doghouses after cleaning them before. So in this isolated doghouses in the kennels with roofs the dogs can stand the winter better.
The shelter workers will change the straw during the whole winter. A very important task near to give the dogs enough food and to give them fresh water (not easy in winter because the water is very often frozen :( .
Till now it was a great work done by very engaged volunteers and also by the shelter workers.
Thank you to make this all possible!!
At all our 4 shelters all the dogs will be castrated by time.
Also our animal protectors are organizing a lot of castration campaigns in small towns around especially Prahova to give owners of dogs and cats the possibility that their animals (dogs and cats) can be castrated without paying something. These castration are paid by ProDogRomania e.V. via donations.

If we could get in this case more financial support here in this project it would be possible to arrange more castration campaigns for owner dogs.

Please help us that this important project can be go forward. So it is possible to minimize the dogs and especially the puppies suffering.
In this public shelter we are active sind 7 years. In this time our help increased.

We provide the food for 3,000 dogs! Every day we need approx. 1.000 kg food!
The vetenary care for all these dogs including vaccinations, surgeries and deworming etc. is paid by us. Also in special cases when dogs has to be brought to vet cabinets these expenses are paid by us. and in summer we need special medicine against mites. Without this special pills the dogs who were biten by mites lost their fur and it itches very strongly.

With volunteer groups we visit Bucov and during these work deployments a lot of roofs were build to give the dogs protection of sun, rain and in winter snow. Also the men and women are building new kennels.

We have dog kennels made by a local carpenter so that the dogs have protection.
We also provide the kennels with water baskets and food bowls.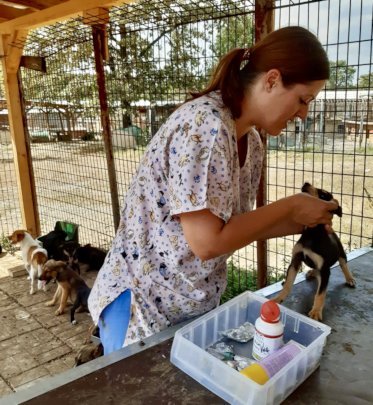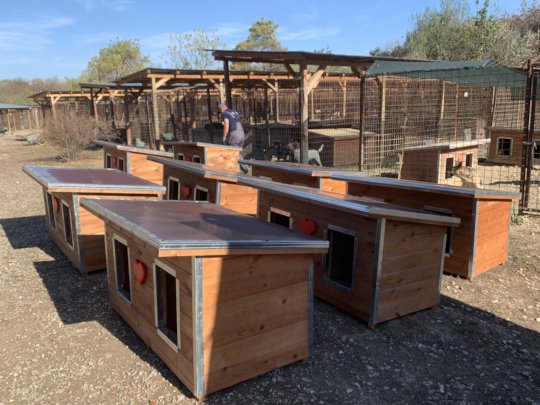 WARNING: Javascript is currently disabled or is not available in your browser. GlobalGiving makes extensive use of Javascript and will not function properly with Javascript disabled.
Please enable Javascript
and refresh this page.