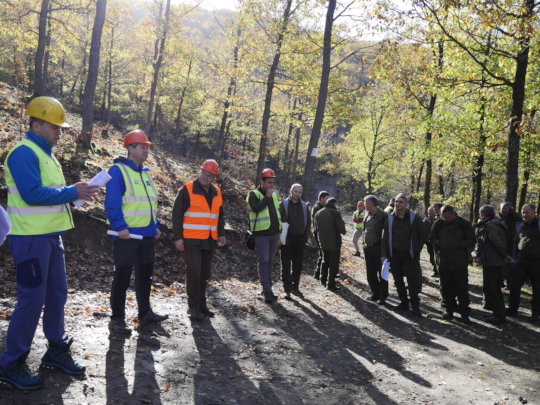 Identifying and mapping of old-growth forests is essential to protecting valuable habitats and the species living there.
WWF work closely with forestries and help them set and achieve goals on responsible and sustainable forest management. Or in other words, how to take better care of the forests.
One of our main regions in the last 2 years has been Eastern Rhodopi. We had field work on the territory of Zlatograd, Ardino, Krumovgrad, Zhenda, Momchilgrad, Shiroka Laka, etc. These forestry units are soon to be FSC certified.
The FSC system allows businesses and consumers to identify, purchase and use wood, paper and other forest products made with materials from well-managed forests and/or recycled sources. Approximately 40% of Bulgarian forests are FSC-certified so far.
We trained 150 employees of forest units in Eastern Rhodopi. A training usually takes 2 days. Experts from WWF and FSC auditors teach the emplooyees how to manage the forest while protecting the rare and endangered species. They also give advice on how to collect feedback from stakeholders and local communities.
It is a really hands-on training as it is always done during an approved logging activity. Attention is drawn to every aspect of the process – from the permission to cut certain number of trees to safety measures and clothing and best practices of transporting the wood out of the forest.
Links:
Within two years of scientific and field work, WWF Bulgaria and partners have mapped out old forests located in territories owned by 30 municipalities in the country. The large-scale survey was announced at an official press conference at the BTA, which was attended by representatives of municipalities, the scientific and environmental community, as well as non-governmental organizations and state bodies.
13% of the forests in Bulgaria (523 thousand ha) are managed by the municipalities, and only 9% of the municipal forests are over 100 years old. These are forests mainly concentrated in watersheds and steep terrains. In addition to being home to amazing biodiversity, they protect the waters, prevent erosion and floods, purify the air, and enrich the soil, making them of great importance to humans and to sustaining our environment in the face of climate change. However, in order to continue to provide these vital ecosystem services, urgent measures need to be taken to protect them.
Which forests are old-growth forests?
The old-growth forests are one of the last nooks and crannies of wildlife that are poorly influenced by man. They still hold examples of the biodiversity characteristic of the pristine forests that once existed throughout Bulgaria. Only in the old forests do the trees reach the age limit, often between 300 and 400 years old, and acquire majestic dimensions of over 40 - 50 m in height and 1 - 2 m in thickness, perishing without being cut down. Today the old forests in Bulgaria are concentrated mainly in places where access is still restricted due to lack of roads or steep terrain. WWF publishes more information on its public GIS platform: https://gis.wwf.bg/mobilz/
Links:
WWF Bulgaria has filed a lawsuit against the Ministry of Environment and Water for logging violations
WWF Bulgaria has filed a lawsuit against the Ministry of Environment and Water for logging violations on the territory of Pirin National Park. Under the pretext that sanitary felling is being carried out, trees may be removed in the park in violation of the Protected Areas Act.

Logging in the national park is the next threat to Pirin after the construction plans. WWF has warned that logging is often permitted without the necessary legal prerequisite. "To correct this vicious practice, we filed a lawsuit against one such sanitary clearing permit in the national park," said Dobromir Dobrinov of WWF Bulgaria.
To learn more about the case, click here.
Illigal Logging Mobile App
WWF Bulgaria is in a process of developing mobile app which will enable the public to easily send signals for illegal logging to the responsible institutions. Stay tuned to learn more about the app.
Both the lawsuit and the mobile app development wouldn't be possible without your support!
Thanks to you WWF believes that together we can build a future in which People live in Harmony with Nature!
WARNING: Javascript is currently disabled or is not available in your browser. GlobalGiving makes extensive use of Javascript and will not function properly with Javascript disabled.
Please enable Javascript
and refresh this page.