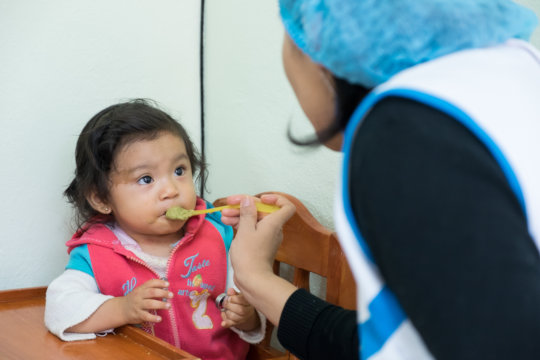 Cristopher is 8 years old, is the number 4 of 5 brothers. His mother is a housewife and his father is engaged in informal commerce. He lives in an extended or multigenerational family, that is, in the same dwelling several families live, in the
case of the family of Christopher live with his mother's family, therefore, he lives with his brothers and cousins. His family has been going to the Monte Albán Community Center for 13 years.
"...When I first came to the center, I thought about what they are going to give us, because to this colony for being poor, they come to give us things, but it is always in exchange for something, change a vote. That's why I could not believe that this was true, that someone would want to help us selflessly, and above all that he treat us with a lot of respect and affection...
Victoria, Madre de Cristopher
The family of Christopher lives in a climate of poverty, violence, addictions and delinquency, has relatives who are dedicated to stealing and consuming drugs. In this family, most children have problems with aggressive behavior and learning difficulties. Can you hope even in these circumstances?
Cristopher has presented chronic malnutrition in his first years of life, and since childhood his behavior has been an issue that worries teachers, showed antisocial and insecure behavior. In her growth she has accompanied her mother to strengthen her educational role and to look at the future she wants for her children, this is the reason why this family has persevered despite all the difficulties that are presented to them.
Currently he is in the third grade of primary school and like his siblings he is a child who takes advantage of all the opportunities that occur in the center.
His participation in the guitar workshop has been very outstanding since at his young age he can play the mandolin very well.
With this instrument he understands the melodies he listens to, he remembers order and sequence, if he gets to have difficulties with the movement of the pua he leans on some syllabic pronunciation. He manages to memorize and understand the reading of the solfeggio with speed, now he executes clearly, although he has only managed to play a melody with 100 bars continuously, his difficulty is singing, his passion: interpreting everything he hears.
Clearly, this work has had a visible impact on her learning, her mother says, her reading comprehension improved a lot, she now understands more clearly the instructions when answering an activity, her handwriting is now clear, as well as her speed, her grades are very good, he is responsible with his tasks, in addition music has been a factor of union with his brother Luis who also goes to the workshop, and they are accompanied in the learning. His nutritional status is currently optimal for his age.
"...My children have a lot of desire to get ahead, and I see them as professionals, I know that, if they are still here, they will achieve all their dreams, because besides giving us breakfast, classes, workshops, motivate them to keep going. I see opportunities in my children that I could never have given them, such as a violin, guitar, sports class, feeding them well, everything is very expensive, it is for rich children. I see them very different from children who do not go to the community center, they take advantage of their time while others are alone, and I think we are very lucky..."
Victoria, Madre de Cristopher
As well as Christopher 500 children and their families are currently supported with food, school support and prevention of social risks from the community centers of Crecemos DIJO.