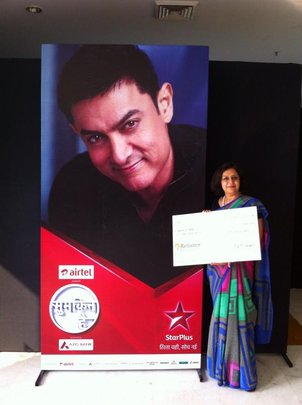 With your support Operation ASHA continues to achieve new milestones and set new standards. Many exciting things have happened recently.
Recently, leading Bollywood actor Aamir Khan who hosts the famous television show Satyamev Jayate (Truth Shall Prevail) focused on tuberculosis (TB), and included Operation ASHA's path breaking work in saving lives and treating patients.
On October 9, 2014 President of OpASHA, Dr. Shelly Batra joined Jim Kim, President of World Bank at the TEDxWBG talk on Ending Poverty in Washington DC.
Inside OpASHA
The eCompliance, our comprehensive low-cost technology solution for tracking and monitoring TB patients, is constantly being upgraded to suit the needs of the people. Recently, our technology team launched a text free version of eCompliance to be used in zero literacy areas such as the tribal areas of Madhya Pradesh and Jharkhand. We successfully transitioned eCompliance from Net books to TABLETS for improved efficacy and cost-efficiency.
Operation ASHA has developed powerful innovations, says Aleem Walji, Director of the World Bank Innovation Lab. He goes on, ''I feel inspired when I see an organization that;s doing something in a new way or creating new delivery model to serve the poor. Operation ASHA...has fingerprint recognition mechanism for tracking patients supplied. But when I went to see them in the slums of Delhi, I realized that their work involves all kinds of innovations...These are powerful innnovations''. Full interview is available here.
Our eCompliance technology has been customised for replication in Kenya. The local NGO has implemented 9 eCompliance tablets in the pilot. Results will be available hopefully in a year.
Of course, focus of Operation ASHA continues to be supporting/ treating patients and preventing TB. An example is the tribal area of Ghati Gaon in the state of Madhya Pradesh in Central India.% of the patients regularly missed doses in this area, because they were away during the day earning livelihood in surrounding towns.
to eliminate this problem, our highly motivated health workers changed their work hours to late evening and early morning and succeeded in virtually eliminating missed doses, hitting a perfect zero for most of the time.
See how these workers deliver care in remote villages.
Apart from this, we are also testing 10,000 TB patients for Diabetes, and the first phase has already been started in Delhi. This implementation is an imperative tool to detect co-morbidities and impact more lives positively.
Operation ASHA's work was also presented in a number of other international conferences. These are: Geneva Health Forum in April 2014, Annual Forum of the IPIHD,"International Partnership for Innovative Health Care Delivery" in Washington DC, among others.
Major Media mentions

Center for North East Studies and Policy Research, June 18, 2014, "If you want to deliver a last-mile solution, the best way is to ask those affected how they might do it",

Canadian International Council, July 10, 2014, "How the World Bank Got Over the Curse of Knowledge" An Interview with Aleem Walji, Director of the World Bank's Innovation Labs
STOP TB Partnership Newsletter, July 24, 2014, "eCompliance technology gains new ground to help in patient identification''
SEA GLOBE Magazine, August 15,2014, ''WITH BATED BREATH''
TEDxWBG Talk, October 9, 2014, Dr. Shelly Batra, President of Operation ASHA along with World Bank President, Jim Kim joined the TEDxWBG talk on Ending Poverty.

Satyamev Jayate (Truth Shall Prevail), October 26, 2014, Aamir Khan leading Bollywood actor lauded Operation ASHA in his famous show Satyamev Jayate for their work.

Project Report
Donation Utilization:
This quarter Operation ASHA raised $596.
Part of the funds were utilized to provide groceries, like wheat flour, rice, cooking oil and cereals, for five extremely poor patients in the tribal area of Gwalior.
The rest of the money was utilized in treating TB patients.
Click here to read how Operation ASHA helped Bibi Shaikh who works as a sweeper in a hospital.
We have been able to support these disadvantaged TB patients only because of your continued love and support. Make a donation today and help us go further in achieving our mission of eradicating tuberculosis.
Thank you.
Links: