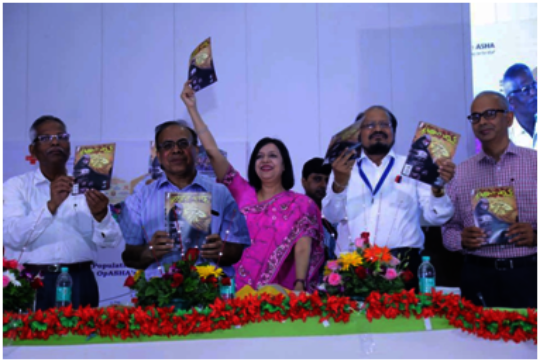 Dear Friend,
Meet Knight Wolf, the new TB Champion!
Knight Wolf is a superhero with superpowers, who fights evil doers with great panache and incredible bravery. He is also fighting Tuberculosis by giving health education and raising awareness about TB in a fun-filled manner- via a beautifully illustrated comic book.
Knight Wolf is the brainchild of Grant Reed, a 12 year-old schoolboy from the US, who, at this tender age, is the Creative Director for Operation ASHA.
We had a spectacular launch of the comic book in Mumbai, in a fully packed auditorium in St. George's Hospital. The Chief Guest, Dr. Sanjeev Kamble, Director of Health Services of Maharashtra, give an inspirational speech on Knight Wolf that was met with foot-stomping and thumping applause till the very rafters of the hall were ringing. The glittering ceremony was attended by government officials, State TB officers from other parts of the country, CEOs from corporates, and most importantly, our own TB patients who listened with rapt attention, and our very own TB health workers who serve patients with love and care and the utmost sincerity.
There was a widespread cheering and clapping when Dr Kamble said, "Knight Wolf is the new TB champion. He is telling children exciting stories of good conquering over evil, and at the same time, he is giving health education by graphics and pictures. Children like pictures, not lectures! A comic book is exactly what we need in the fight against TB."
We are grateful to Grant Reed for his brilliant creation and for investing his time, expertise, creativity and resources in bringing forward a solution for TB elimination. The comic book has already been translated into 3 languages, and more than 40,000 copies are being distributed to disadvantaged children in TB treatment centres, schools, hospitals, and other resource-limited settings.
Knight Wolf will be a new paradigm in the fight against TB. Lack of awareness is the reason why 3 million TB patients go 'missing' every year. We cannot allow this anymore. It's time to utilise every tool effectively in the fight against TB, and this is why we need your support at this crucial time.
OpASHA media mentions:
1. Operation ASHA recently won the Millennium Alliance Round 5 grant which will help us in reaching out to more TB patients and provide them treatment at their doorsteps.
2. Goldman Sachs declared Operation ASHA a winner of the Analyst Impact Fund Competition, 2018, for bringing tuberculosis treatment and health services to the underprivileged.
3. Our President, Dr. Shelly Batra is one of the 6 people selected across the world for an award by the Pierre Fabre Fondation for her work in social entrepreneurship.
4. Operation ASHA participated in a conference organised by the USAID funded TB CARE II Project, called "Digital Health Technologies for a World Free of TB". The workshop was held in New Delhi, India and attended by Ministries of Health and National TB Program (NTP) staff involved in digital technologies platforms from the 10 NAP (National Action Plan) countries.
5. Operation Asha collaborated with the NGO Every Infant Matters and Virat hospitals in Rewari, India to carry out health-related activities for children, such as awareness of proper hand washing techniques, vitamin A distribution, and deworming.
Patient's story:
Manju, a 40 year old working women, lives in the slums of Bhud in the Baddia area, with her husband and 4 children. She used to work as a help at some local restaurant. Her husband used to work as a chauffeur somewhere. Although, both earned a meagre salary every month, but were managing to get food on table for the family. The situation worsened when 3 months ago, Manju's husband was thrown out of his job due to a dispute, followed by a fight with his owner. However, Manju was still continuing her job but her deteriorating health had forced her to think how she will continue with her work.
It was sunny day when our CHW was on round in Bhud and was moving in Slums finding out people with TB symptoms. There she came across the kids of Manju who were playing outside. As she briefed them about the symptoms, one of the kid said that my mother has such symptoms. Our CHW went to the house of Manju along with the children and saw her situation herself. She spoke to Manju about the symptoms and was quite sure that Manju is suffering with TB.
The sputum sample of Manju was sent to lab for getting tested and she was diagnosed with pulmonary TB. Sunita, our CHW, immediately started Manju's treatment and at the same time, got her family members tested as well to ensure all were safe. She counselled Manju and her family together and told them about the precautions and measures to be taken by the family so that the disease doesn't spread.
Manju has completed her one month treatment and there is tremendous improvement in her health. She has even joined back her work and is the sole bread-winner for the family now. Sunita frequently visits Manju to take updates on her health and in the mean-time Manju updated Sunita about the health of a boy living in her neighbourhood. The boy also has symptom of TB.
With Manju's help, the boy has also been tested for TB and has been diagnosed as well. The boy is also taking treatment now. Manju's words and her experience with the disease in the past, along with the counselling done by our CHW, is helping the boy to be positive towards his health condition.
Donations raised:
This quarter, Operation ASHA raised $177. These donations will be used to provide medicines, grocery, and other necessary day to day items to the disadvantaged TB patients in India Cambodia.
Operation ASHA is thankful to its supporters for joining hands in TB eradication. We look forward to your continued support.
Thank you
You can follow OpASHA's CEO Mr. Sandeep Ahuja (@sandeepahuja12) and President Dr. Shelly Batra (@shells1857) on Twitter. You can also follow OpASHA on Facebook and Twitter.