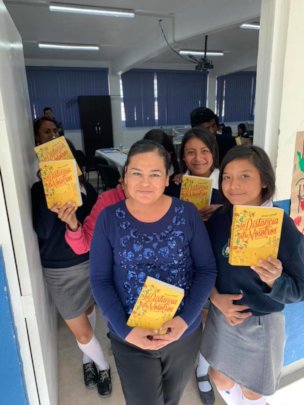 It would be hard to describe the week with author Reyna Grande for the fifth year of Libros para Todos. During the Thanksgiving week in and around San Miguel de Allende she spoke to nearly 1000 people and signed 600 books and many more bookmarks. Reyna's ability to express herself with candor and warmth drew us into her story like a magnet. Both young and old were able to experience her journey as if it were our own. THANK YOU, REYNA.
As they say, a picture is worth a thousand words so I will post many here and highlight the major events along with a few stories that happened.
Wednesday was our first rural community event in Banda. This is a very small school where 30 read Reyna's memoir "La Distancia entre Nosotros". Reyna was very well received by these young adults (age 13-16) who were moved by the sad and difficult stories of her childhood. Each person in Banda wrote their own book based in each chapter of Reyna's
Here is a review from her website of the book.
"Born in Mexico and raised by her grandparents after her parents left to find work in the U.S., at nine years old, Reyna enters the U.S. as an undocumented immigrant to live with her father. Filled with hope, she quickly realizes that life in America is far from perfect. Her father isn't the man she dreamed about all those years in Mexico. His big dreams for his children are what gets them across the border, but his alcoholism and rage undermine all his hard work and good intentions. Reyna finds solace from a violent home in books and writing, inspired by the Latina voices she reads. After an explosive altercation, Reyna breaks away, going on to become the first person in her family to obtain a higher education, earning a college degree and then an M.F.A. in Creative Writing.

At a time when immigration politics are at a boiling point in America, Reyna Grande is an important public voice for Mexican Americans and immigrants of every origin. The Distance Between Us has the power to change minds and hearts."

Thursday began a full day with three events - Los Rodriguez, Naciones Unidas and Pantoja (with students from Don Diego). Each event was well received by the schools and communities that invited us. Common denominators of all the events were gifts and letters handed to Reyna as well as large posters and drawings related to the stories in the book. Bouquets of flowers covered her table as she patiently looked into the eyes of each student as she signed their book addressed personally to each one.
Friday was spent in Dolores Hidalgo - first at a large event in a secondaria (Middle School) where 200 had received the book however the event included all the school - seats and bleachers were filled. After her talk and Q&A a young girl came with her mic and sang acapella in the most glorious voice.
After a fun few hours in Dolores Hidalgo including delicious tacos for all and ice cream at a shop of the family of one of the students, we were off to a very large event of close to 300 people. These were students of local book clubs as well as many parents. Here again the students shared special programs that had been planned for her, gifts and a second song by the same young girl named Natali.
And probably the most emotional of all came on Saturday afternoon. Students in the school at Don Diego were moved by her story and the caravan of asylum seekers passing through Mexico and decided to raise money to buy items of necessity for these people. We took 3 carfuls with bags of goods to ABBA House in Celaya - a safe house for these people. We were given a tour, met some of the refugees and witnessed with our own eyes the reality of this situation. After these many days with Reyna, listening to her story of immigration and realizing that this is a very real life for so many people here in this part of the world and in many other parts, now was the opportunity to actually witness it. The emotions were overwhelming for all.
Thank you all for following our Libros para Todos program and for supporting us with contributions as well as moral support.