The volunteers and staff of Libros para Todos are getting ready for the "Big Read" in November with returning author Francisco Jiménez. Events will take place between Nov 6-10 in several rural communities around San Miguel de Allende and at Bellas Artes in SMA on Saturday, Nov 9 (11am) and an event in English at the Unitarian Universalist Fellowship of SMA on Sunday, Nov 10 (10:30am).
The chosen book for this year is Cajas de Cartón (The Circuit in English) and is already in the hands of over 600 children. Several of the communities involved this year are new to the program. Teachers from the participating communities attended a workshop in September which encouraged participation and enthusiasm for this year's program.
Francisco (Panchito in his memoir) was our first LpT author in 2013 and his presentations launched this successful program. We are proud to have him back in SMA and know that he will connect well with the young people reading his book.
These are the words of Francisco Jiménez after the events in 2013 with Libros para Todos:
"My participation in Libros para Todos was a rewarding and enriching experience. I was impressed by the leadership and commitment of the founders and organizers of this wonderful program to promote reading in the San Miguel de Allende community and, most of all, I was inspired by the children who read my work and were eager to learn--they give us all hope for a better future."
We are grateful for the many generous donors through GlobalGiving and will continue to keep you up to date on this year's "Big Read" as well as the many upcoming programs for 2020.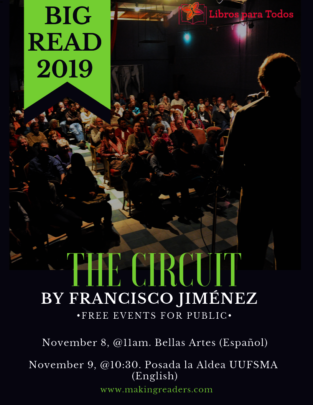 Libros para Todos hosted its third annual summer camp last week at the beautiful Bellas Artes building in San Miguel de Allende. Twenty four children between the ages or 10 and 14 spent five days developing their creativity through theater, writing, and drawing. The students were so enthuastic and energized each day as they also made new friends. It was a very successful summer camp and we are all very proud of the students that participated.
Thanks to our team of teachers who motivated these students to reach new creative hights. The teachers were:
Bernard Govea is a Mexican writer and expert in young adult literature who lives in Guanajuato.
Christian Baumgartner is an actor and dancer from Venezuela and currently performing and teaching in San Miguel. We had the use of the theater in Bellas Artes for his classes.
Susan Dorf is known for her paintings, prints, and sketchbook drawings and she has taught painting and drawing workshop in several countries.
Thanks to our donors, we were able to provide this five day course free of charge with lunch included and we were also able to reimburse transportation costs for students that traveled from out of town many of which came from rural communities.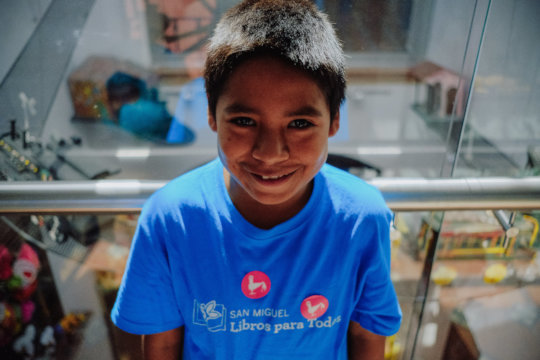 Thanks to you many donors and supporters we have reached our goal with our first GlobalGiving project and are now ready for our new OUTREACH PROGRAM to better connect with our many schools, teachers, parents and children in rural communities.
Our Outreach Program is different from our Big Reads program in that with the Outreach Program we are looking at ways to keep children interested in reading and writing throughout the year as well as developing closer working relationships with teachers and children in rural Mexican communities. We have found that our Big Read program has been very successful at getting children interested in reading for the first time, but that efforts need to be made year round to keep them engaged as readers until they have fully developed the habit of reading on their own.
We can do this by growing our volunteer program, expanding our pop-up library services, and offering a creative writing summer camp for kids who otherwise don't have access to books, libraries, and summer learning opportunities.
Please visit our new project page at:
https://www.globalgiving.org/projects/outreach-reading-projects-for-rural-mexican-kids/
WARNING: Javascript is currently disabled or is not available in your browser. GlobalGiving makes extensive use of Javascript and will not function properly with Javascript disabled.
Please enable Javascript
and refresh this page.