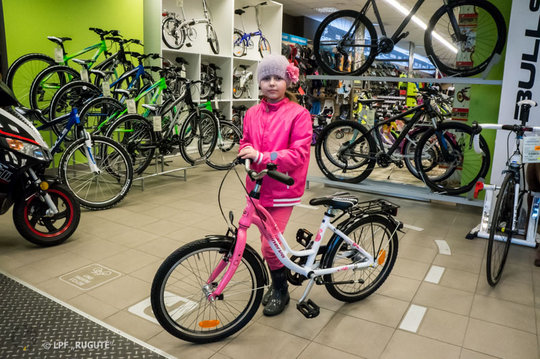 Childhood Cancer Fund Rugute continues to provide financial support to families with children that have been diagnosed with oncological diseases. During the last three months, the Fund provided monthly and non-recurring charity of 6,800.00 Eur to such families. The families used this money to purchase necessary medical care supplies and to cover travelling expenses, as well as other costs that they could not have avoided due to their child's disease.
The Fund helps to purchase specific medications that are needed for individual childhood cancer patients. Some of these medications are not covered by the Government, and some are not supplied in Lithuania at all. Oftentimes, in order to begin to administer the new treatment schemes that have never been administered in Lithuania before, hospitals face a need to purchase advanced antitumor drugs that are successfully used to treat oncology patients in foreign countries.
Physicians of the Oncology and Haematology Unit of Children's Clinic of Kaunas Clinics requested Childhood Cancer Fund Rugute to help them purchase antitumor medication, needed by a teenage patient Gabija. The doctors are going to try the new treatment scheme where an antitumor medication Avastin (Bevacizumab) is going to be administered to Gabija. The Lithuanian Government does not cover this particular drug, therefor our Fund spent 8,400.00 Eur to purchase a quantity of it.
Also, following doctor's request, in order to continue a successful treatment scheme to two children with brain tumors, our Fund purchased medications Temozolomide Teva (100 mg and 20 mg) for 2,372.58 Eur.
One of the most common side effects of chemotherapy is mouth ulcerations that worsen the physical and emotional condition of the young patient: children are unable to eat and suffer severe pain. In order to ease these symptoms, the Fund purchased a quantity of mouthwash solution Aftamed for 613.23 Eur.
In order to be able to analyze the young patients' weight and to alter their doses of medications accordingly, the Fund purchased 2 electronic scales for 750.20 Eur.
Last March, Fund Rugute made the little Katerina's dream come true. This is what Katerina wrote us: "I started attending the new school this year. A new teacher, different children... I feel awkward and sad, because I don't know how to approach them and how to make new friends. I used to have one best friend – we went to school together and rode our bicycles. The children of the new school also gather up at the stadium with their bicycles. I often watch them through the window and dream of my own bicycle, so that I could go riding with them. Perhaps this way I would be able to find a new best friend..." The Fund allocated 336.16 Eur to fulfill Katerina's dream and bought her a new bicycle.
The young cancer patients' treatment is a long, intense and complicated process. Once the child reaches remission, he or she often experiences complications caused by treatment. These children usually suffer from fear, anger and anxiety, due to various medical procedures they have to go through.
For a long time, we have been developing an idea that we should not only care for the little hospital patients, but that we should also help the children that have reached remission, to fully recover from the disease and the treatment. It is obvious that in order for their bodies and souls to get better, it is crucial to provide them with both active and passive recreation, new experiences, joyful adventures and new friends. Positive emotions free their minds; encourage them to enjoy every single day and to discover the world around them.
We were very happy to receive an invitation from Swedish company NFG Fastigheter AB. They offered us to bring our children to Mallorca, Spain, for a week of vacation. From the 18th to the 25th of April, 5 children who had been diagnosed with oncological diseases in the past, and their family members, had a vacation in Can Fanals property on the warm Mediterranean island of Mallorca.
For the past three months, Rugute was also able to continue covering the maintenance costs of Rugute's Home, the only facility in Lithuania that provides temporary free of charge accommodation to the young cancer patients and their family members. This facility is a shelter for the families that live far away from the hospital, and is especially appreciated by the young cancer patients for its cozy and playful home environment.
We are very grateful to our dear donors of GlobalGiving, who do not hesitate to contribute to the well-being of the little oncology patients in Lithuania.
Thank you for thinking of us, and for being there for our children.