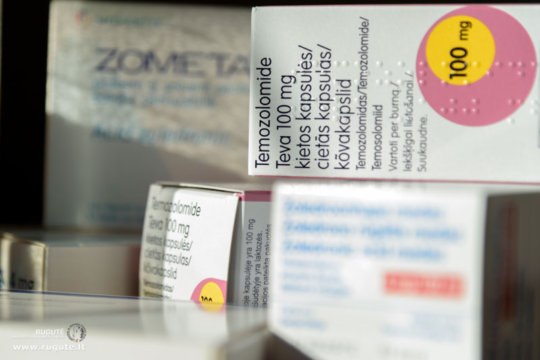 Report (December 2015, January and February 2016)
Childhood Cancer Fund Rugute continues to provide financial support to families with children that have been diagnosed with oncological diseases. During the last three months, the Fund provided monthly and non-recurring charity of 3,600.00 Eur to such families. The families used this money to purchase necessary medical care supplies, to cover travelling expenses and other costs that they could not have avoided due to their child's disease.
The physician of Oncology and Haematology Unit of Kaunas Clinics contacted Fund Rugute and asked for our assistance in purchasing medication Avastin (bevacizumab), the supply of which has been cut in Lithuania. This medication was necessary to continue treatment of the little patient Gabija. Since Lithuanian Government does not cover the expenses of this drug to childhood cancer patients, last spring Fund Rugute allocated 8,400.00 Eur to purchase it. In December 2015, Fund allocated 5,470.75 Eur to purchase more of this particular medication.
Fund also helped purchase medication Puri-Nethol 50 mg (mercaptopurine), the supply of which has been also cut in Lithuania. Total cost: 545.73 Eur.
Fund also assisted in purchasing medication Vfend 200 mg (voriconazole), the antifungal drug that is prescribed to patients suffering from weakened immunity as a side effect of chemotherapy. Total cost: 653.98 Eur.
Fund Rugute continues to support little brave girl Aiste, whose childhood was put on hold by a second strike of an oncological disease. In order to continue immunotherapy and other treatment methods for this girl, Fund allocated 13,782.12 Eur.
One of the most common side effects of chemotherapy is mouth ulcerations that worsen the physical and emotional condition of the young patient: children are unable to eat and suffer severe pain. In order to ease these symptoms, Fund purchased a quantity of mouthwash solution Aftamed for 459.23 Eur.
Fund continues to work on improving psychological well-being of the little patients. In order to help them avoid pain and multiple peripheral catheter insertion procedures, Fund purchased 12 items of long-term central venous catheters and the special needles (240 items) for 3,788.39 Eur.
Rugute has covered travelling expenses for three nurses who will be going to participate at a medical conference in Reykjavik (Iceland) on the 27th–31st of May 2016.
A few years ago, Fund Rugute helped Eugenijus (dad of a childhood cancer patient) develop his idea to install aquariums in the hallways of Children's Disease Clinic of Kaunas Clinics. Typical hospital environment causes fear and anxiety to children and has a depressing effect on their parents. It has been proven that stress and fear, experienced by patients, reduce the effectiveness of treatment. On the other hand, the pleasant and positive environment is especially important to children who spend many months in the hospital. Therefore, we allocated 676.37 Eur to renew the hospital aquariums (to replace the fish, filters, lampas and decorations), and to make sure that little patients and their parents have a source of serenity and peace inside cold hospital corridors.
Rugute continues to maintain its premises called Rugute's Home. Children and their families are welcome to come here and stay for a night or two, whenever they need it. It is a place where everyone, who has been touched by an oncological disease, is welcome and loved.
On the 11th of December, Rugute's partners from Sweden arrived to Lithuania for the 9th time in a row. The Swedish guests traditionally visited all the childhood cancer patients being treated in Vilnius and Kaunas hospitals, as well as several children staying at home. They brought gifts to the children and created a true Christmas miracle for them.
Little David's impressions about the Swedish Elves' visit to his home:
The last time Swedish Elves visited us, was five years ago, so it was especially fun to meet them after such a long time. We were looking forward to meet them and kept walking to the window, hoping to see them arriving. Just like before, the Elves filled our home with merry and festive spirit. They are so fun and creative, especially the Senior Elf. It was fun to sing a song about a frog and jump along with it. We enjoyed juggling and, of course, opening the presents given to us by Swedish pupils. It is a pity that the Elves stayed at our home for a very short while, since they had to visit other children as well. Thank you, dear Elves and fund Rugute, for the joy you brought to our home.
On behalf of our little patients and their families, we sincerely thank you for your kindness and for your generous donations!