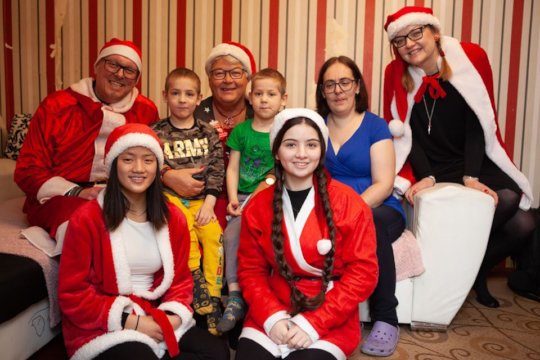 Report (December 2019, January and February 2020)
During the months of December, January and February, Rugute provided monthly and non-recurring charity of 11,993.23 Eur to the families who used this money to purchase necessary medical care and food supplies and to cover other costs that they could not have avoided due to their child's disease (for example, travelling costs). The money also helped the families to improve the psychological well-being of the children.
The Fund helped to purchase specific medications that are needed by individual childhood cancer patients but are not State-covered or not supplied in Lithuania at all. In order to ensure that the proper treatment is administered to the little patients, the Fund bought:
- medication Topotecan (cost: 233.44 Eur);
- medication Clisma-lax (cost: 551.52 Eur).
6.250,00 Eur of charity for A. R.'s first surgery, accommodation, meals and other expenses endured during the planned surgery at Gdansk University Clinical Hospital's Centre of Children's Surgery and Urology;
Physicians of Kaunas Clinics requested Childhood Cancer Fund Rugute to fund Ukrainian citizen's K.M.'s treatment in Lithuania. The Fund paid 1,351.07 Eur for radiation therapy.
The Fund paid 3,025.00 Eur for genetic screening of 1 children. The genetic screening and testing of young cancer patients in one of the most modern laboratories of Europe, is a continued project, launched by the Fund in 2015. It's aim is to help Lithuanian doctors to detect the hystology of the tumor, to foresee the progress of the disease and to individualize the treatment.
The Fund has donated 1,500.00 Eur to the Lithuanian Children's oncology and Haematology Therapists Fellowship.
For the past three months, Rugute was also covering the maintenance costs of Rugute's Home, the only facility in Lithuania that provides temporary accommodation to the young cancer patients and their family members, free of charge. Having found shelter in these premises, children with oncological diseases are able to have a break from their treatment and from being in the hospital. Rugute's Home allows their family members to get a temporary accommodation while visiting children in the hospital. The total maintenance cost of Rugute's Home in December, January and February was 4,995.33 Eur.
On the 12th of December, 2019, five friends from Sweden arrived to Lithuania to continue on a beautiful Christmas tradition. They brought gifts to children with oncological diseases. Every time I come to Lithuania and meet those sweet children, I realize how lucky and fortunate I am. There are people arround us that have not been so lucky. I am happy to be able to provide at least a little happiness to them, - says Stefan Essperson, one of the beginners of this support campaign.
We are very grateful to our dear donors of GlobalGiving, who do not hesitate to contribute to the well-being of the little oncology patients in Lithuania. Thank you for thinking of us, and for being there for our children.