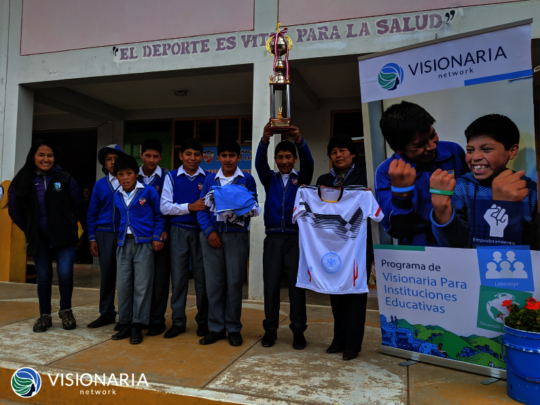 JUNE 2019
Director Update

[Note: This update was also sent to our newsletter recipients in JUNE]

What I love most about the Visionaria program model is when young people propose something totally unexpected to tackle a problem that they care about.

Earlier this year, students from one of the four teams who won our "Leader with a Vision" prize put their heads together about how to reinforce the message to their peers that alcohol consumption is both hazardous and costly.

Alexander, Jenner, Josias and Jafet proposed creating a radio spot, but then also asked their mentor if they might do something a little less expected: host a soccer tournament.

¡Campeonato relámpago de fútbol "Jóvenes Libres de Alcohol"!
While it's too early to know whether or not their efforts will reduce alcohol consumption among young people – we can report that administrators and community members are happy with the increased visibility and messaging. A local radio station liked the radio spot so much that they granted free airtime for several months to run it. And their school is considering making the "anti-alcohol soccer tournament" an annual affair.

Ever since the first Visionaria leadership programs in Cusco in 2013, we have worked with young people to develop and improve initiatives in their communities. After brainstorming problems with young women, we introduce existing solutions and bring in local professionals to share their experience, before leaving it entirely up to the team of young leaders to decide what they think will work best.

In late 2016, we started to adapt this approach for the secondary public-school system, successfully creating and approving our curriculum with education authorities for the regular "Personal and Civic Development" course area.

This is not only a fantastic learning experience that prepares them for future work, but also improves community relations and moves the needle on tricky community challenges.

After all,

persistent local problems

require

novel local solutions. At Visionaria, we're making sure young people's visions are part of the way forward.

In 2018, we created the "Leader with a Vision" prize. This is a small grant program available to students in public schools who have gone through the Visionaria course, taught by teachers trained and supported in the Visionaria for Schools program.




The prize allows secondary school students to propose a bigger project, participate in a 3-day leadership program to develop their plan further, and execute their plan with a mentor. They are naturally constrained by a small budget (~$300), a short timeline (~4 weeks), and the patience of their mentor – but after that, they are free to propose whatever activities they think will work best.




Thank you to all of our supporters and partners for their investments in education and youth-led sustainable development in Peru!




We are humbled and inspired by the potential for young people to get meaningfully involved in the sustainable development of their communities.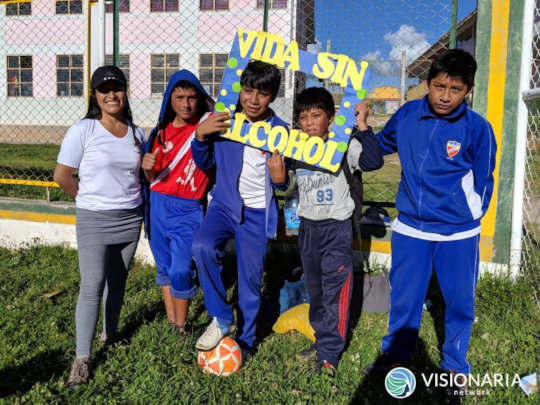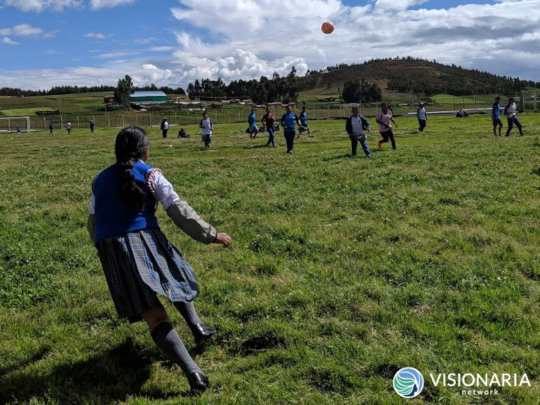 Thanks to YOUR support Visionaria will reach and support 2 additional rural provincial schools in Peru in 2019.
We are in conversations with the corresponding provincial ministries of education who oversee over 100 secondary schools in the mountains and valleys of the Cusco state of Peru, and join their excitement in expanding the Visionaria program.
In 2018 through the VFS program, we improved the quality of education for 500+ students. Furthermore, these students' developed sustainable development initiatives that are reaching 3,000+ community members and tackling a wide variety of problems including:
Lack of water for agricultural irrigation
Alcohol consumption and addiction
River pollution
Dangerous transportation and reckless driving
Illegal deforestation of native trees
Theft of livestock
We are still collecting end of year data, but it's clear that young people are motivated and perceptive when it comes to solving old and new challenges.
Some additional things we are excited about to end the year:
We hosted a conversation series with past Visionarias to talk about the skills and experiences that they have found most helpful now that they are 3+ years past secondary school in order to inform the VfS program moving forward.
Visionaria coaches have helped student teams navigate interviews with different community leaders as they tackle local problems.
We hosted a celebration dinner to close out the school year with our various education partners and network in Cusco. Teachers implementing the VfS program were awarded professional development credit, certified by the ministry of Anta and Visionaria Network, for their completion of the Visionaria for Schools program in 2018.
More updates to come as we process the final weeks' work samples and surveys. Follow along via our website, newsletter, and facebook pages.
Links:
We are now supporting over 46 student teams (and counting!), as well as their teachers who have integrated the Visionaria program into regular class-time in select schools in the Anta Province of Cusco, Peru. (Check this map – can you spot Machu Picchu?)

Some of the problems students have chosen may seem far away… like "the illegal burning and clearing of forest" or "thievery of livestock", but other topics ring closer to home: "domestic violence and mistreatment of children" or "discrimination based on physical differences" or a "lack of fixed and steady work". (You can see the full updated list of 2018 project topics on our website here)

While we do not expect small student teams to solve these persistent problems in one go… we DO expect them to interact with local leaders and current initiatives, and (in confident teenager fashion) advocate for new and improved solutions based upon their own experiences and insights.

The entire experience is not only a GREAT way to meet teaching and learning goals, but it also helps to raise aspirations and community expectations for what young people are capable of.

In these rural districts, it is very rare for young people (15-19yrs), especially young women, to be seen interviewing and joining to solve problems with other community members and leaders. We are both humbled and excited to be able to hear and support their visions for the future through Visionaria for Schools.

Many more updates to come, as student projects pick up speed for the second-half of the Peruvian school year!

Onwards,
WARNING: Javascript is currently disabled or is not available in your browser. GlobalGiving makes extensive use of Javascript and will not function properly with Javascript disabled.
Please enable Javascript
and refresh this page.