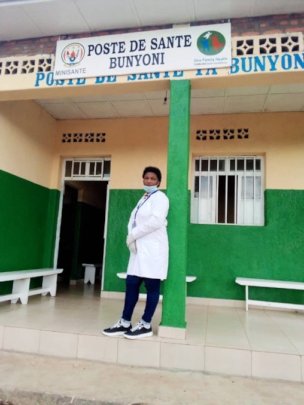 Mrs. Ruth Dusabimana, nurse and owner at Bunyoni Health Post, is one of OFH's newest franchisees. She is 42 years old and a proud mother of five children. Before joining OFH, Mrs. Dusabimana worked for the Rutsiro health center. Her business, Bunyoni Health Post (HP), which opened in March 2020 with support from Ivuriro Iwacu, is located in Rutsiro district, in the western province of Rwanda.
In this story, Mrs. Dusabimana describes her experience of working with OFH, how the Bunyoni HP is impacting her community, and how opening her business during COVID-19 has redefined the early days of Bunyoni HP. Bunyoni HP is one of fifteen recently opened health posts that have scaled up OFH's impact in Rwanda by increasing access to primary care in under-served rural areas.
"Thanks to OFH, we are now able to offer quality primary care right here in our community. People don't have to walk long distances before reaching the nearest health facility as they used to in the past because our health post is in the vicinity of their homes," says Mrs. Dusabimana. "With OFH's support, we also provide a fast and reliable customer-focused experience to people in our community. For instance, our patients can find the medications they need at our health post, and this saves them time," added Mrs. Dusabimana.
In line with global efforts to fight the COVID-19 pandemic, the Bunyoni HP and other OFH health posts across Rwanda are taking the necessary precautions to prevent the coronavirus transmission within their clinic spaces, such as emphasizing handwashing, moving handwashing stations to the entrance of the clinic, and using protective equipment such as gloves and masks. OFH health posts also play a key role in ensuring that their surrounding communities are well informed on the coronavirus and how to best limit its spread. "We collaborate with the local authorities to ensure that the Bunyoni community members are informed on the coronavirus safety guidelines," says Mrs. Dusabimana.
OFH health posts in Rwanda remain open during the coronavirus global crisis and will continue to ensure that quality primary care is accessible in their communities. "Although the number of patients currently using our services is low because of COVID-19 stay-at-home measures," says Mrs. Dusabimana, "we can still see up to 32 patients a day. We anticipate that the number of patients will considerably go up once regular social and economic activities resume in Rwanda, and people are able to get out of their homes more often."
All OFH health posts accept national health insurance, which covers about 80% of the Rwandan population. As Mrs. Dusabimana points out, "accepting national health insurance allows community members to seek out services provided at OFH health posts without worrying about affordability." More than 98% of OFH patients are covered by the national health insurance program.
OFH also ensures that all health posts are well-equipped, effectively managed, and in compliance with the national standards for health care facilities. In Mrs. Dusabimana's words: "OFH provides the tools and equipment needed to run clinical operations smoothly at each health post, and the medications restocking system is very reliable. OFH also offers us clinical refresher trainings, as well as additional training on effective management. These trainings enable us to successfully take care of our patients."
Like many the other new OFH health posts in Rwanda, the Bunyoni HP opened in the midst of the global pandemic in March 2020, yet its positive impact within the community is already undeniable. Mrs. Dusabimana is committed to ensure the continued success of the Bunyoni HP, and she feels greatly supported by OFH in her mission. "We are happy to be able to offer quality primary care services that members of our community would otherwise have a hard time accessing," Mrs. Dusabimana concluded.