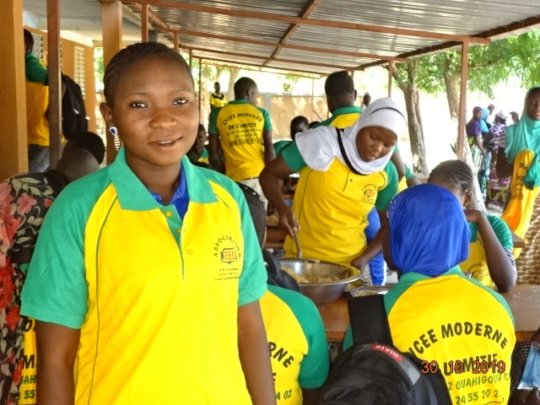 My name is Delphine. I am 21 years old and in my last year of secondary school at the Lycee Modern de l'Amitie (LMA), with an academic emphasis on science. My parents are subsistence farmers. I have four brothers and five sisters. I am the only in my family to go to school. When I was young, a friend of my father's who has a daughter my age took me to Ouahigouya (a larger town) and enrolled me in primary school. I have been at the LMA since middle school and have always benefitted from the noon meal offered at this school. It is a huge source of motivation for many students and it contributes to the greater academic achievement of students of the LMA compared with other middle/secondary schools in the region.
I was touched three years ago when I learned that the Coordinator of Assn NEEED volunteered to support the education of a fellow student who is an orphan (both father and mother). The Coordinator is paying for all of her educational costs: school fees, school materials, noon meal and all of her personal needs. When I saw this, it reminded me of when I left my parents to live with the friend of my father's. If it wasn't for this man, I would not be in school. I would have been forced to marry at a very young age like the other girls my age who stayed in the village.
With all that I have seen, following my studies I want to do humanitarian work, to help those who are less fortunate and bring a smile to those who are in distress.
I thank Assn NEEED and its partners (that's you, GlobalGiving donors!) for all they/you have done, and do, to support us disadvantaged young women.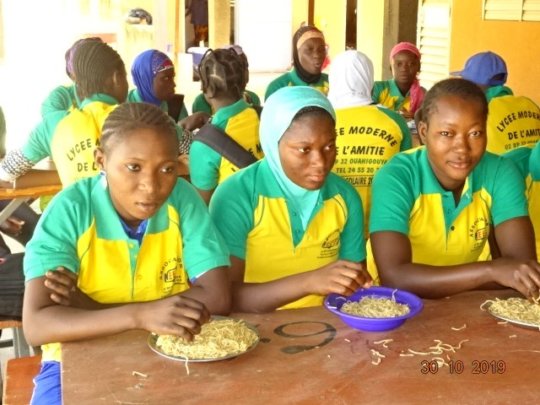 To our GlobalGiving partners,
The school year has ended in Burkina Faso and students' academic results have been posted. Once again, the young women whose training scholarships you have generously supported this year have all passed their exams and are looking forward to their second year of training. Two of these students wish to share with you their appreciation for your support, enabling them to receive this training.
My name is Aoua. It is with a heart full of joy that I write you this small note. I send you my most sincere greetings. Last year, I received one of your scholarships for primary school teacher training. I have just completed my first year and have been admitted to my second year of training. I am very appreciative for all that you have done for me and for the other girls. Truly, without this scholarship, I don't know what I would have done in life. I would like to ask that you continue to support our scholarships because there are many other girls who are in difficult situations like mine and who need your support so that they may receive this training. Once again, thank you, thank you, and thank you again.
Dear GlobalGiving partners of Association NEEED. My name is Safietou. I am 20 years old. I have just completed my first year of training in the Ecole Nationale des Enseignants du Primaires (national school for training primary school teachers) in Ouahigouya. It is thanks to your support that I have been able to benefit from this scholarship for primary school teacher training. This has allowed me to realize my dearest dream: to become a teacher. With all my heart, I thank you very much. I would like to encourage your continuing support for the training of the next generations of teachers. Thank you and God bless you.
As we approach the upcoming school year, there are many (young women) candidates in northern Burkina Faso who are qualified to enter the national school for training primary school teachers but who have no resources to pay their fees nor to sustain themselves during their two years of training (at a total cost of $1,540). Our goal is to provide scholarships to 15 of these young rural women this upcoming school year. We ask for your generous support to make this happen.
Many thanks!!
The school year has ended and as always, a larger percentage of students of the Lycee Modern de l'Amitie (LMA) have passed their year-end exams than is true for their colleagues in the region and nationally. Association NEEED, the LMA, and especially the students have much to be proud of.
One of the students is Aramatou. She tells her story: I was born in Ouahigouya (near where the middle/secondary school is located). I spent my early years in Ivory Coast where my parents found work. When the war began in Ivory Coast in 2002, my father died, my mother was pregnant and we returned to Burkina. Following the birth of my younger brother, my mother left us with an uncle and she returned to Ivory Coast.
I have been a student at the Lycee Modern de l'Amitie (combined middle/secondary school for girls) for four years. The lycee is nine kilometers from my village. Fortunately for me and for other students of the lycee, we are able to stay at school and have something to eat over the midday break, and to study our lessons.
I have two more years of secondary school to complete, after which I hope to study medicine and help to treat people who are sick, especially those with malaria which has many victims every year.
My sincere thanks to everyone who has sacrificed to support our school canteen.
WARNING: Javascript is currently disabled or is not available in your browser. GlobalGiving makes extensive use of Javascript and will not function properly with Javascript disabled.
Please enable Javascript
and refresh this page.