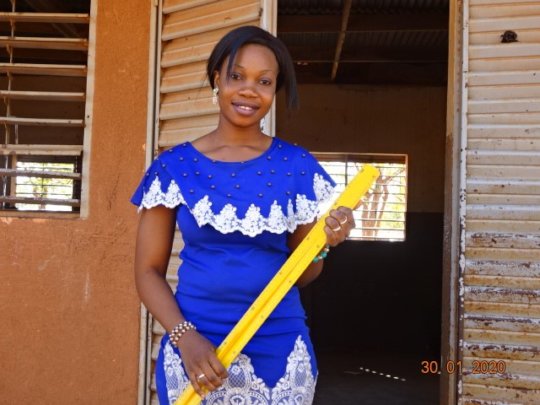 Village primary school teachers in Burkina Faso rise to the challenge of 100+ students in a classroom as the demande for education increases. Korotimi, a teacher trainee whose training is supported by your GlobalGiving donations, shares her experience.
My name is Korotimi. I am in my second year of training to become a primary school teacher. Last year, I completed my classwork at the National School for Primary School Teachers in Ouahigouya. This year, I am doing my practicum with a first grade class under the supervision of a classroom teacher in the primary school in Gondologo.
We have 102 students in our class: 54 girls and 48 boys. Class hours are Monday – Friday from 7:30 – 12:00 and 3:00 – 5:00. I prepare my lessons every night and submit them to the classroom teacher for approval before teaching the class. At the end of April, I will be evaluated by the classroom teacher and the school director. Then I will return to the National School for Primary School Teachers to prepare for the final primary school teacher exam.
My most sincere THANK YOU to all of the GlobalGiving donors who have accepted to support the cost of my training. This means the world to me!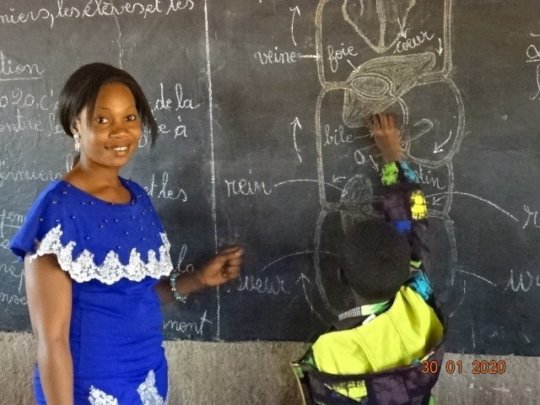 My name is Leontine. I am 16 years old and am in my next to the last year of secondary school at the Lycee Moderne de l'Amitie (LMA). I am specializing in math and science in my coursework. I come from a village 8 km from the lycee. My father is an assistant mason. My mother raises a few chickens to sell. I have five younger siblings: two brothers and three sisters. They all go to school. My sisters and I help our mother to manage the small amounts of money she gets from the sale of her chickens. My father comes to the lycee from time to time to make sure that I am working hard and that I am getting good grades.
The LMA is the best secondary school in the region. This is obvious from the positive test results. The canteen plays a most important role for those of us who come from poor families. Having something to eat midday helps us lot. I hope to pass final lycee exams at the end of next year and to continue my studies in architecture.
I sincerely thank Friends of Burkina Faso donors and encourage them to continue to support the canteen. Long live Friends of Burkina Faso.
Attachments: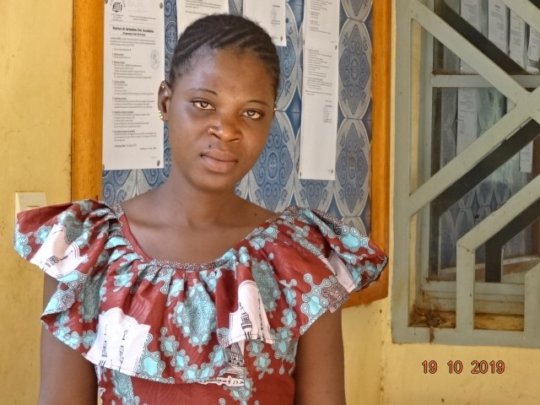 My name is Mariam. I am 25 years old. Thanks to Assn NEEED, as a young child I was able to enter primary school with the help of the Lambs Support Girls' Education Project and my lambs supported my education through secondary school. I graduated from secondary school in 2015 and was fortunate to receive a scholarship from Assn NEEED to primary school teacher training. Today, I am a primary school teacher in a village. My students are wonderful and love to learn. We are like one big family.
Last year, I observed that a 9-year old student in my class could not focus on her studies and was mostly sleeping in class. During recess one day, I talked with her and learned that her mother had died and her father married another woman who forced this young girl to do all of the domestic chores. This kept her up late at night and got her up very early in the morning. She was not able to complete school work nor learn her lessons. I took the issue to my school director and we called her father in to meet with us and the president of the Parent Teachers Association. Ultimately, the father understood that it is inappropriate to force his daughter to do all of the domestic chores, and he understood the importance of allowing his daughter time to study and to rest. As a consequence, at the end of the year, this student scored 11th academically out of 96 students in my class.
These are the teachers your donations support: young women who have been challenged themselves and who are serious about the education of the next generation of village children in Burkina Faso.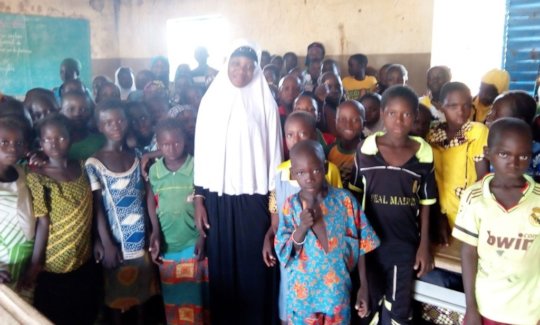 WARNING: Javascript is currently disabled or is not available in your browser. GlobalGiving makes extensive use of Javascript and will not function properly with Javascript disabled.
Please enable Javascript
and refresh this page.