Winter is coming! What does that mean for the Collinsville Food Pantry? Our COIVD numbers are still very high, there are restrictions taking place in our County and it is starting to get chilly. We still do all business outside the doors of our building. Our loyal volunteers are tasked on bringing out the bags of food for our patrons. We have no intention of closing and are determined to make sure our Community stays fed. We have seen an increase in monetary donations because people want to make sure we can still serve. We can still use your help to make sure we can purchase enough food to fill the growing demand. Please continue to send support to help use continue to serve. Thank you!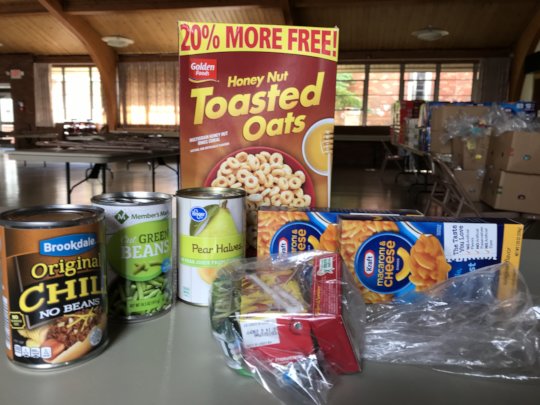 The Collinsville Food Pantry began the school year with close to 200 requests for Tote Me Home bags from the Collinsville School District. We serve the 12 schools that are in the district. This is the most that has ever been requeste! The Pantry had to have a discussion on limiting the number of bags we provide. We don't want to but financially 200 bags per week is close to what we can afford and we are just beginning our school year. Our families have been hit hard from COVID 19 virus. Many are not working or not able to return to work full time. This school year is a hybrid model and remote learning. Students choose whether to attend school 2 days a week and the other days remote or all spend all days learning at home. We do NOT want to turn anyone away!
The attached photo is 1 example of the menu that is sent home with the student. It is enough food for the weekend for them. There are 4 menus that rotate through the schedule. The wonderful KC Ladies Auxiliary continue to volunteer to pack and distribute the bags to the different schools. They are working with less people per our State's restrictions. Please continue to support us!
The Collinsville Food Pantry has found itself in a unique situation that was created by battling the current pandemic. We have become a distribution center for other Pantry's in the area. It began with a local diary that had an order cancelled by a large retail outlet. They did not want to have to destroy the milk that no longer had a buyer, so a chain of communication began that ended up with a phone call to the Collinsville Food Pantry. 'Of course, we will accept your order! We understand it is 972 1/2 gallons of 2%milk! We can find places for it all. Oh! It is coming once a week for the next 10 weeks. No problem!" The director and a few volunteers began working the phones. By the time the trailer rolled up in the parking lot, there were 13 other Pantry's waiting to be loaded up. This has blossomed into other business contacting us to be able to donate food items. There is a produce distributor that come twice a month with fresh fruits and vegetables. The other Pantry's are there waiting. Some of the smaller Pantry's have never had the opportunity to hand out fresh milk and produce to their patrons and it has been very emotional for them. It has been a blessing beyond imagination!
The Collinsville Food Pantry is invested in making sure our larger community is now being fed. Please continue to support us and our mission to have no family go hungry.
WARNING: Javascript is currently disabled or is not available in your browser. GlobalGiving makes extensive use of Javascript and will not function properly with Javascript disabled.
Please enable Javascript
and refresh this page.