Dear Friends and Supporters,
In rural Nicaragua cooking cultural is a central component of life. From early morning tortillas to late afternoon coffee and evening beans, the kitchen is a hub of activity. Sharing experiences between neighbors is one of the key ways that new families learn about the benefits of improved cookstoves. In September, families from Candelarias, Sonzapote and El Diamante joined us for the improved cookstove fair to learn about the technology, test cook some meals on various models and most importantly hear what their friends and neighbors think about the improved cookstoves they've been using in their homes.
Angela F., who has been using her improved cookstove for over three years, walked two hours to join the improved cookstove fair and share her experiences with the stove. She proudly talked about how she saves three times the amount of firewood as before and gave some important cooking tips for families interested in building an improved cookstove.
The stove fair was a huge success with over 80 participants attending the multi-community event. Elsa G. and Nubia L. welcomed dozens of people into their houses to view and cook on their new stoves. Additionally, we promoted the small Coci Nica model stove, youth from the community danced traditional dances, and rice pudding was shared by all.
Families in Candelarias send a heartfelt thank you to all of you who have supported this project. Tomorrow, Wednesday October 15th there is a 30% match on our Improved Cookstove Campaign on Global Giving. Please encourage your friends and families to consider donating to our program. The 30% match only lasts until noon, so please encourage everyone to give first thing in the morning! A donation of any amount helps us towards our goal of 50 clean cookstoves for rural Nicaraguan families!
All the best,
Caitlyn
PS. For those of you who have been concerned about the drought in Central Nicaragua, normal rains have return and families are currently expecting a full harvest in November!
Dear Friends and Supporters,
For families in Candelaria and across Nicaragua agriculture is the backbone of the economy. Two thirds of the country's exports are agricultural based and small producers depend on rainfall to feed their crops. The rainy season typically lasts six months beginning in May. This year, hardly any rain has fallen due to El Niño climate patterns, creating a devastating drought in Nicaragua. In Central Nicaragua where the community of Candelaria is located, families who are primarily subsistence farmers have been unable to grow a harvest (traditionally beans and corn). Families are starting to run out of grains from the previous year's harvest and stretching their budgets to purchase food for their families. Everyone hopes that rainfall will increase, providing families with at least a bean and corn harvest in November.
In recent weeks, we've been strategizing how we can make improved cookstoves more accessible for families due to the dire economic situation for most families this year. We know that a significant contribution from the families towards the cost of the stove is key for the long term success of the project. Therefore we are looking for ways to maximize the contribution of the family through local materials, labor, and local transport to lower the payment they contribute towards the stove. Additionally, we are planning to extend the payment period for families to pay on their stove.
As we are preparing for the improved cookstove fair in a couple of weeks, we are looking to incorporate a new and very economical stove model to offer families a stove with a very low price point. We've been testing out a locally manufactured rocket stove called the Coci Nica at our office in Managua (see photo above). We like that the stove cooks quickly, reduces smoke and firewood consumption, is portable and is an alternative for families that cannot commit to larger improved cookstove at this time. We expect to offer this stove at our stove fair in a couple of weeks and anticipate that it will be an alternative stove for families that would otherwise not be able to acquire a stove this year.
Thanks to everyone for their continued support of this project and helping families in rural Nicaragua to reduce deforestation in their communities and smoke in their homes. We look forward to sharing more updates soon.
PS. More information about the drought in Nicaragua can be found here: http://www.ipsnews.net/2014/07/el-nino-triggers-drought-food-crisis-in-nicaragua/
Links: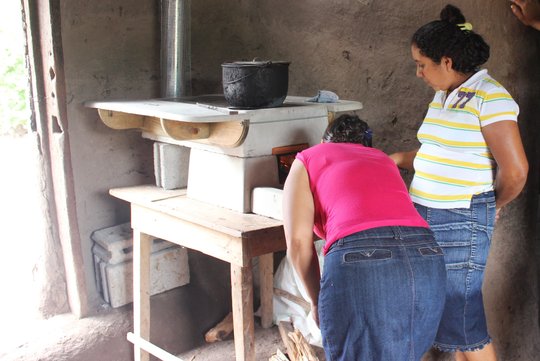 Dear Friends and Supporters,
In recent months, we've continued with our preparation of the 50 improved cookstoves project in Candelaria. The community leaders are excited about starting the project and we are preparing to implement baseline surveys in the upcoming weeks. The information collected will help us better understand how people are currently cooking and evaluate the impact of the new stoves on the community.
Additionally, we are preparing for the improved cookstove fair to be hosted in the community next month. Above, is a photo from an improved coostove fair in the neighboring community of El Balsamo from 2013. Community cookstove fairs are a wonderful opportunity for families to learn about the function and benefits of the improved cookstoves, try cooking on one, and determine which improved cookstove best meets the family's cooking needs.
Stove construction begins shortly and your generous support helps us build 50 smoke free kitchens for rural Nicaraguan families.
Ps. if you haven't already, please like Green Empowerment and our Service Learning Page on Facebook.
WARNING: Javascript is currently disabled or is not available in your browser. GlobalGiving makes extensive use of Javascript and will not function properly with Javascript disabled.
Please enable Javascript
and refresh this page.