It's been dry in NW Uganda since our last update but work continues. Any seedling planted in the last five months would not have survived the aridity and high temperatures. But there is still a lot to do.
In January we sent a young man, Dan, to the national forestry college. He had worked assidously in the nursery.
We have been conducting tree seed collection for the next season, with communities collecting seed for which they were, of course, paid.
We trained groups on bee keeping. By hanging hives in trees, we protect the trees and give families and groups a new income from honey. We bought both modern and traditional hives. The traditional hives were from the Democratic Respublic of Congo, which is not far from the refugees settlements. Made of bamboo, these cost just $1.20. When sealed with cow manure (which hardens into a plaster-like substance), they provide an excellent and natural home for bees.
We started seeding the nursery and now have many thousands of seedling in preparation for the rains which we expect in March. We will raise 17 different species. These will include exotic but naturalised fruit trees, like papaya and jack fruit for planting around homesteads. But it will also include indigenous fruit trees, like shea and desert date (Balinites).
We are encouraged by the attention the project has received among donors and partners and have presented on it in the UKAID (DFID) and also at the UN Food and Agricultural Organisation in Rome and in Geneva at a gathering of humanitarians who work in crises. This attention matters to us because we would like to shift humanitarian thinking to include work with trees and to recognise the environment more.
Please see this our blog attached. It explains our philosophy - plant but don't just plant; protect standing trees; and conduct natural assisted regeneration. Focus on diversity - it gives resilience, dietary diversity and more (for linked science papers explain this) - including the fact that children who live close to forests (less than 3 km) have better diets that those that live further away, and forests with diverse species tolerate droughts better than less diverse ones.
http://blog.worldagroforestry.org/index.php/2018/12/04/refugees-impatient-for-seedlings-as-uk-mps-open-new-season-of-agroforestry-and-other-tree-based-solutions-in-nw-uganda/
We were also quoted in The Guardian in this piece.
https://www.theguardian.com/global-development/2019/feb/18/massive-deforestation-by-refugees-in-uganda-sparks-clashes-with-local-people
We do not agree that the refugees are causing massive deforestation. We think they are removing trees from the landscape to meet their needs. But we are happy that the UN refugee agency is recognizing the importance of trees.
We are extremely grateful for your donations. While we are in discussions with donors and have good leads, what you donate gives us flexibility and we are extremely happy to be in touch with you.
Please let me know if you would like me to come and speak to a group - it may be possible to arrange - or write to someone else about this. We want to change paradigms while doing brilliant work on the ground that gives hope, protects biodiversity and supports refugees and host nationals with fruit, fuel, shade, better soil and more.
Very best and thank you again.
Cathy Watson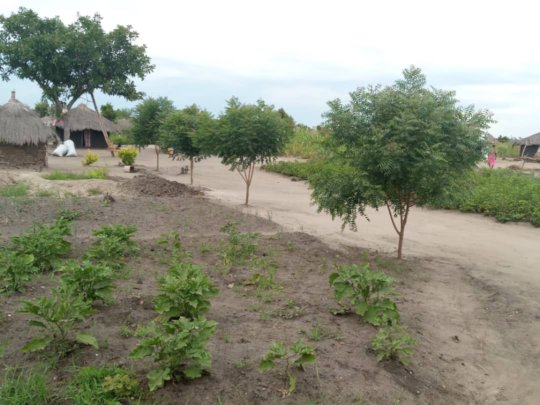 Links: