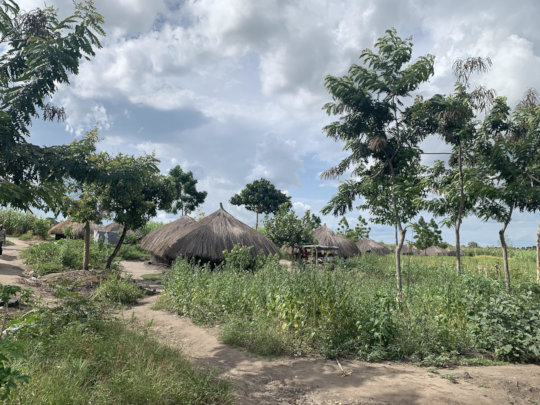 Delayed by COVID, I have finally spent time in the refugee area. It was incredibly rewarding. The model is flourishing though like anything needs tweaks. Here are some snapshots.
On our way to NW Uganda, we pass through Gulu, an epicenter of pigeon pea. This woody legume is a centerpiece of our approach. Planted as hedges or among vegetables or a cereal like sorghum, it fixes nitrogen and provides food for people, fodder for livestock, shade for the soil and poultry, and stems for cooking.
With the help of market women, who have deep knowledge about what they sell, we buy 100 kg of two types. One has a particularly long season during which it produces peas. The other is particularly good for firewood, a major concern for us. Our hope is that, by integrating trees and shrubs like pigeon pea among crops (the practice of agroforestry), fuel from refugees' plots will replace some of the wood being sourced from the natural vegetation.
Reaching the agroforestry center on the first day, we offload the seed and sit down to talk.
Our project is led on the ground by Joel and Gertrude. Their feedback is that it is not the time to plant pigeon pea and that they would preserve it by adding dried chilis, leaves of neem, and ash to the sacks. I really appreciate this traditional way to fend off insects. We will distribute the seed in the next rains to the 500 refugee households we work with: 200 grams of seed is enough for about 150 plants.
Our community-based facilitators, three young South Sudanese. are also part of the conversation, which focuses generally on "how it is going?" Amos has a heavy load of 195 refugee households but has good news. Refugees are getting poles from the seedlings we gave them. "Some are even selling them," he says.
Later as we move to homes, we see how this can be. Many species we supply have the ability to coppice, to grow additional long strong stems after the first stem is cut. And they do this rapidly. We see Gmelina, Melia, and Markhamia trees that had been planted in 2018 with four or five strong stems.
This is a sustainable system. The poles can be harvested on a rotation, again relieving pressure on the surrounding woodlands. There is an unlimited demand for poles for huts, latrines, fences, beds, drying racks for crops, trellises for pots and dishes, and more. We know about coppicing, an ancient practice in Africa, Europe, and elsewhere but had underestimated its role in humanitarian settings.
We are encouraged too by the performance of the fruit trees we distributed. A year on from the last visit, papaya trees are more abundant than ever and figuring centrally in diets. Besides being eaten ripe, when harvested when unripe, the fruit can be peeled and cut into pieces that are dried in the sun. These can then be cooked in a nutritious stew with a sesame paste or with dried fish called mukene, says community-based facilitator Joseph.
These were positive findings but walking around, I sense that we are underutilizing assisted natural regeneration. We have not sufficiently stressed this easy, inexpensive, and fast way to get trees back. Our seedlings are quite often planted next to stumps that could be assisted to regrow.
Good enough, Bidal, the third community-based facilitator, expertly shows us how to "treat" a stump so it regrows. But it remains a worry how to popularise this approach when seedlings and planting are seen as a more valuable intervention. Assisted natural regeneration is a vital way to restore indigenous species that are heavily used and critical for biodiversity.
Day one finishes with a radio show in Arua, the district headquarters that is the jumping-off spot for the refugee area. Gertrude and Chale, a retired forest with copious knowledge of local species, talk entirely in the local language, Lugbara. The host of the show goes by the radio name of "Patience Sugar" and has a large following.
The topic is the importance of indigenous trees for nutrition and, as I sit in the studio with them, it is clear from the calls coming in that this subject is hot. One caller says "I used to look after cattle in the bush and would eat those fruits. I never fell sick then because they are medicinal. Today I don't see them. It's very annoying."
Caller after caller says that these fruit species are disappearing. We have prepared key messages - let's eat them, prioritize them, feed them to our children, they are as nutritious as an orange, let's value and not look down on them, let's be sure not to cut these precious species for charcoal.
Day two also focuses on nutrition from trees. We drive the two hours back to the refugee settlement to meet with Dinka refugees who have prepared a meal for us of leaves from the dryland tree Balinites. These pastoral people rely heavily on the leaves in the dry season when leafy vegetables are scarce.
Our focus is not just homesteads but schools and other institutions, where trees can become permanent fixtures not vulnerable to being cut. So we visit a headmaster who has planted numerous seedlings of one of our hardwood species, African mahogany. They are thriving. He thinks they will attract "some rain". Above all, he is concerned to have shade for his pupils. "You can sit there all day without the sun shining on you. You can have an assembly under such a tree."
We thank all our GlobalGiving donors and hope these snapshots are vivid for you. The project is exceeding our expectations. COVID has been an interruption. But with your generous funding, we are increasing our activities. 2021 will see more radio shows and more assisted natural regeneration, among other things. We are very proud when we see homesteads that are dense with "our" trees. They are your trees too.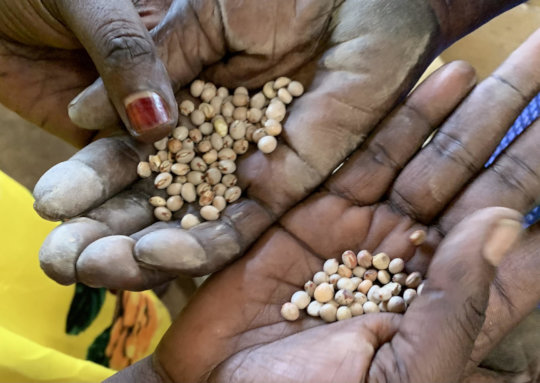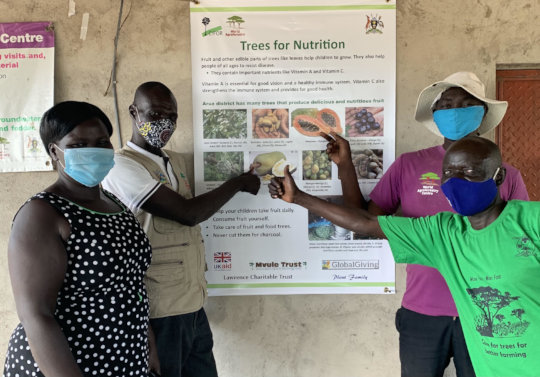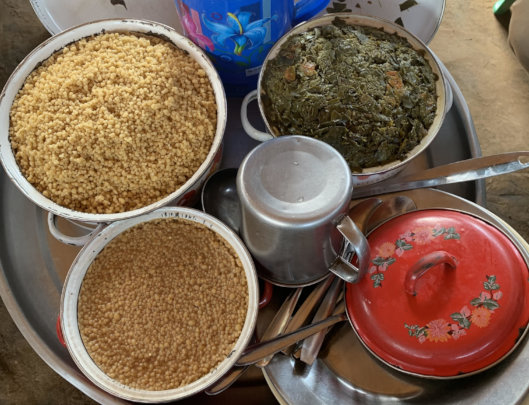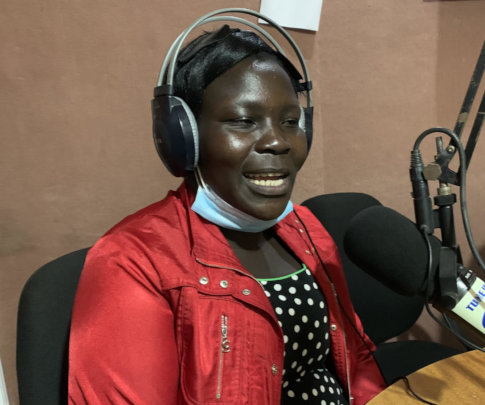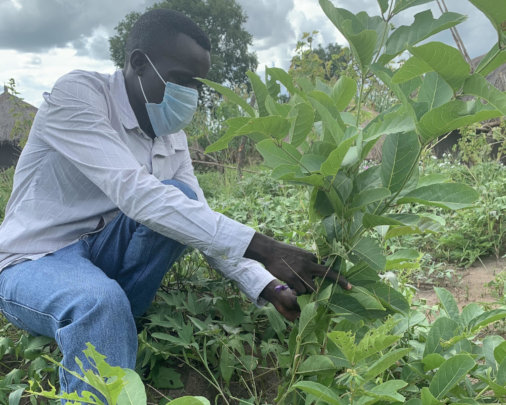 Links: