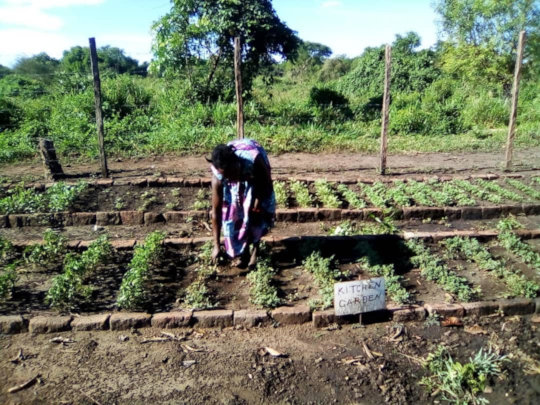 Preceded by HIV/AIDS in the 1990s and Ebola off and on since 2000, COVID-19 is far from Uganda's first epidemic, and the country is doing a great job. By 29 May there had been zero deaths and just 317 confirmed cases. In Arua district, where our project is located, there have been 11 cases to date, most of them long-distance truck drivers who cross multiple borders.
Our team is wearing the protective gear required by the district, has had training and is taking all precautions. Our Agroforestry Community Learning and Innovation Centre remains a place of safety. "Our people are protected," says project manager Joel.
Inevitably, however, our efforts to get trees to the refugee and host community have been hampered. Initially, the field team was restricted to staying within the Centre to avoid mixing with the community. And fortunately, we had a store building with two additional rooms and were able to accommodate the five nursery workers.
With much of the team residing at the center, we also started providing meals for all staff, beyond the usual lunch. In this, the vegetable garden has been a great boon, providing a non-stop supply of delicious and highly nutritious African leafy vegetables.
March and April are rainy months in which we must distribute our seedlings and make sure they get in the ground. But this was hindered by COVID-19, and we were very worried that we would miss the rainy season altogether. But eventually, by making a case that the seedlings would over-grow and become not fit to plant, the team secured authorization from government authorities to undertake a somewhat curtailed distribution of seedlings to selected sites.
Seedling planting started in earnest in May, and so far 9500 seedlings have been planted with refugees and host community households in Rhino Camp and Imvepi settlements. The species include Afzelia africana (the hardwood that unfortunately is prized in the East Asian market), Balanites aegyptiaca (the amazing Desert date tree with vitamin-rich fruit, edible leaves and a precious oil in its seed), Artocarpus heterophyllus (also called Jackfruit), Gmelina arborea (a fast-growing exotic), Melia volkensii (an indigenous mahogany-like dryland tree), Khaya grandifolia (true African mahogany), Moringa oleifera (a small naturalized tree with edible leaves), and Papaya (the orange-fleshed fruit also called pawpaw). For me, this is a good mix of food trees, timber trees, and trees from which fuelwood and poles can be sourced. It is certainly what the community wants.
We delivered the seedlings using the tricycle van that we purchased entirely with funds from, yes, you! Our GlobalGiving donors.
Our method is to give the seedlings to our Community-Based Facilitators (CBFs) who live within communities, and who in turn register community members interested in tree planting, noting their preferred species and the number of seedlings of each that they can absorb. All the time observing the recommended personal protection and social distancing, the CBFs guide refugees and hosts on how to plant the trees (e.g., spacing, size of the hole). Another 900 plus seedlings have been given to NGOs and government officials to plant at food distribution sites. We hope to distribute the rest of the seedlings in May and June if the rains continue. We have 73,000 in the nursery, including grafted mangoes and tamarind. Then, as soon as the lockdown ends, we will follow up with all the planted sites to conduct beating up (a forestry term for replacing dead seedlings) and advise households on management.
That's how we roll basically! Slow and steady and addressing the needs of the population, who really want trees and use them every day of their lives.
And did I mention that the beehives have yielded? A group of farmers and refugees and centre team extracted 20 kilos of pure honey and much more honeycomb besides. It is being shared out fairly and some of it sold, in the center's first modest effort at sustainability.
Unable to travel to Uganda (the airspace is closed for both Kenya and Uganda), I am tracking this all from Nairobi. But as soon as I can, I will be across. We are not daunted by what might appear to be little funding coming in. Our budget is economical. Please continue to support us in any way that you can and thank us for what you have done.