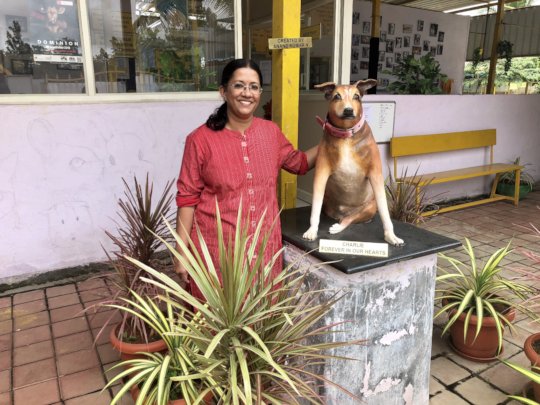 Dear Friends,
Thank you so much for your support during the GlobalGiving Accelerator. It is because of you that we are now full time members of the GlobalGiving community. This gives us access to donations from people and companies from across the world so that we can continue to rescue and rehabilitate street animals in Bangalore.
Street animals have incredibly tough lives. At CARE we believe that every street animal deserves the best. We'd like to the take this opportunity to tell you about how CARE began. We'd like to tell you Charlie's story.
It all started in February 2002. Charlie, a stray living in Jayanagar, Bangalore, was brought into CUPA after a road accident almost killed him.
This was a defining moment for Sudha, the founder of CARE and former trustee with CUPA -
"They unwrapped the cloth he was in and we saw a bloody black, white and brown puppy sitting there. His hind legs were completely smashed but with all that, his button eyes were still looking at us. In the vet college, they said there was nothing they could do, he was too young to have his leg amputated. He looked at us as if to say "I have to live". I still remember those eyes."
With incredible luck, Sudha managed to find a vet to operate on him and little Charlie survived. There needed to be a dedicated team to look after him post-op but Sudha and her colleagues were determined to save him. Slowly but surely, Charlie's wound healed and he learned to walk again. Soon, he was running, jumping and playing. In CUPA's facility, He became notorious for being the most mischievous!
Charlie's way with children soon led to his career as a canine therapist for children under the autism spectrum. The children loved him and their response to him was amazing! Animal assisted therapy is an incredibly effective way to help specially abled children improve their memory, motor skills, communication skills and general well being. The children's response to Charlie and his excitement to see them everyday was amazing to see. A therapist for almost 9 years, Charlie helped over 350 children.
We started CARE in order to give more animals like Charlie a chance to live happy and healthy lives.
Sudha Says -
"He was such an amazing dog. Whatever we do here at CARE, we do for Charlie. As long as he is watching over us, we will have the strength to do anything, whatever be the challenges."
The money you helped us raise through the GlobalGiving Accelerator has helped us enormously. Now, we are trying to raise funds to buy a Computed Radiography System with Mobile X Ray which will help us with accurate and better diagnosis.
Also, we will be participating in the GlobalGiving Year End Campaign this year so watch out for more info!
Thank you again for your support.
Sincerely,
The CARE team