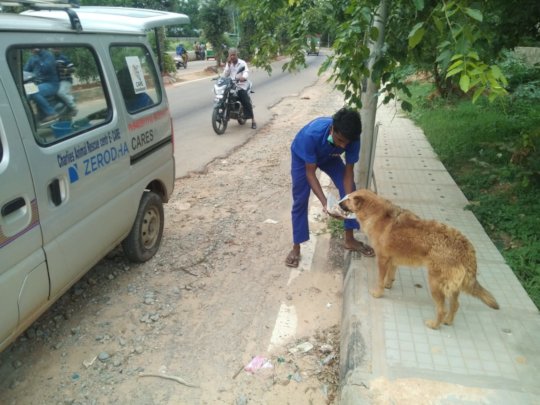 Hello !
I hope you and your family are doing well.
At CARE, we have had to scale up our operations, as we were one among the few shelters that was operational throughout the COVID period.

For most part of the time, we had placed restrictions on visits & volunteering,despite the city going through phases of Unlock. It was a difficult decision to take, but the benefits definitely outweighed the cons. We could continue to keep our staff healthy & happy, thus our animals were well taken care of without any hiccups.

As the cases at the CARE OPD mounted, we also had to gear up for feeding the animals on the street.
The pandemic caused major havoc in the lives of lakhs of animals that scavenged for their food. With most eateries closed down and people not venturing outside as much, the animals took a huge hit.
What began as a small scale exercise, then snowballed into a major operation of mammoth proportions.
We began to not only provide food for the animals, we also began to provide food to verified feeders across the city, so they could in turn cover more animals. In this way, we were able to feed more than 1000 street dogs over a period of 6 months.
With the situation returning to normal, and most establishments staying open,we continue to feed these stray animals, as we realise that some of them particularly, the weak, the old and mother dogs require that extra help as they navigate through this challenging situation.

Meanwhile, our CARE for CATS centre, an exclusive facility for 60 cats, is up and running, and we thank you for your help in covering our running costs for the first 3 months.
For a quick virtual tour of the Care for Cats facility, please click on the link at the end of the report.
We continue to look forward to your support, as every contribution of yours helps us go that extra mile, which is most often the bridge between life and death for these beautiful creatures.
Thank you for your continued support.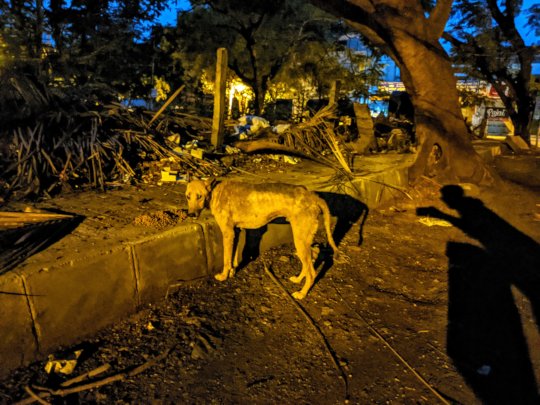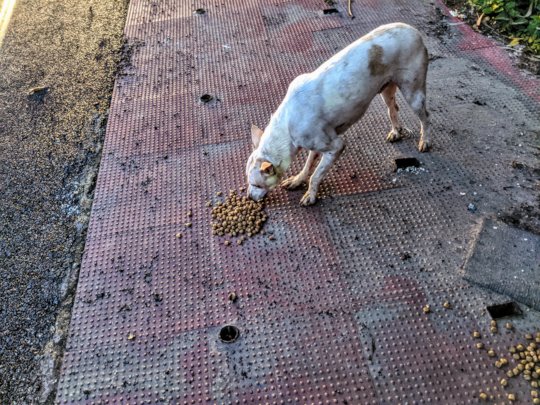 Links: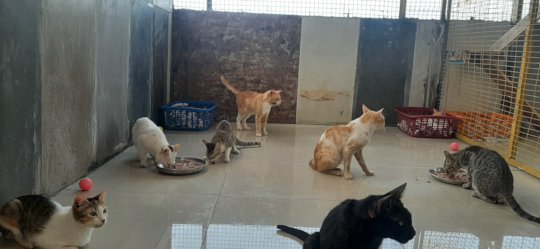 Hope this report finds all of our donors and well wishers in good health during these difficult times. Covid 19 had most of the world ensnared in its grip, and we were not spared wither. While the country and city went into a complete lockdown, Care continued operations, as animal welfare and rescue was rightfully considered as essential services. To make it safer and convenient for our staff, we made arrangements for their stay at the shelter. This was done to ensure that our animals contiuned to receive attention and food, no matter what happened outside. Our staff was provided with all the amenities to make them comfortable and we were grateful for their selfless gesture towards the animals under our care.
The CARE for Cats facility was under construction when we were hit by the pandemic. With a lot of difficulty, under significant duress, we finally completed the construction and moved all the cats safely to the new facility.
When we started the construction, it seemed like quite an uphill task but we could do this thanks to your generosity and support.
The cats have been divided into packs and live in seperate enclosures, where they get their food, enrichments and a whole lot of love.
Now with the big task behind us, we are now working hard to cover our running costs.
Our running costs include Recurring Monthly Expenditure of a Total of 1,455 $ which includes
1. Salaries – 3 Persons – 2 Cleaners Staff+ Front office asst – Rs.756 $
2. Medicines + Vaccines- 280$
3. Food – 350$
4. Miscellaneous – Cleaning Material , Staff welfare etc- 70$
To begin with, we want to raise enough funds to keep us going for the next 3 months and so we are looking at raising about 4,365 $.

During these trying times, we once again request your support to help us tide through.
Signing off for now, and wishing you and your family good health and happiness.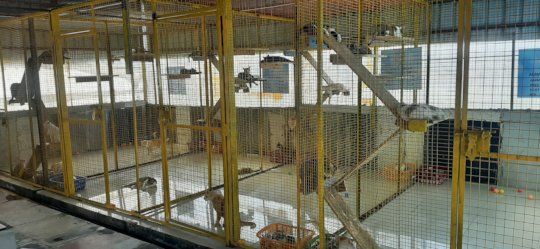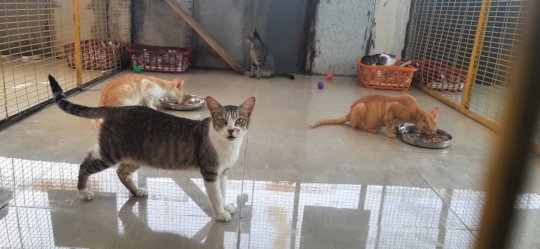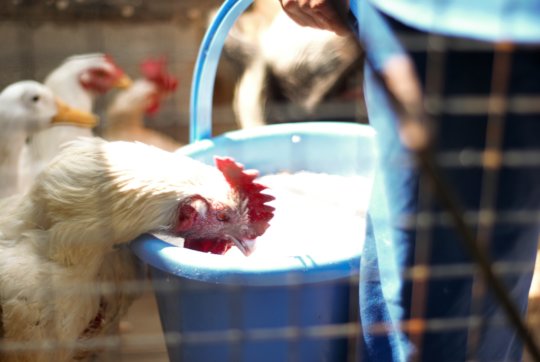 Greetings to all our donors and well wishers,


First of all, Thank You for your patience. So much has happened in the last few months at the shelter that kept all of us incredibly busy. Before I begin with that, I would like to thank you all for your continued support and your donations, towards the feeding of our barnyard animals.
When we started CARE, it was meant only for cats and dogs,however when other animals began to show up at the gates of CARE, it was difficult to say no. And so one enclosure after the other came up, and today we have a wide mix of farm animals that includes pigs,ducks, roosters, hens, rabbits and Guinea pigs at Charlies barnyard. It gives us immense pleasure to see them live out their life peacefully and fearlessly and we have you all to thank for helping us cover their feeding costs.
Coming to the reason what kept us so busy, was that we had an alarming situation a few months ago. Due to unfortunate and hostile circumstances, we have had to shift the cats at Care for cats facility overnight from Whitefield to our shelter premises in Yelahanka.
To know the full story, you can read it here.
https://www.facebook.com/124590344415679/posts/1233016266906409/
However, now we are looking at building a permanent facility for them right next door to our current shelter and we require a huge amount of funds.

The challenge now is to raise funds to build housing enclosures make it cat proof, provide enrichments, good food, the best medical care and to reassure them that they are finally home & here to stay.
The cats need your help and they need it quickly. Please open your hearts to them, we and they need it.
What we Need:
A. One Time Funding : Total - 24,000 $ which includes
1. Advance Payment to secure the place for 10 years - 5600 $
2. Cost of Fabrication of cages, Electrical & Plumbing work, Tiling the floor, Paving the yard , putting in enrichments, - 18,200 $
B. Recurring Monthly Expenditure -Total – 1,455 $ which includes
1. Salaries – 3 Persons – 2 Cleaners Staff+ Front office asst – Rs.756 $
2. Medicines + Vaccines- 280$
3. Food – 350$
4. Miscellaneous – Cleaning Material , Staff welfare etc- 70$

You can choose to make a small recurring donation or one time donation depending on your convenience.

I once again thank you for being the strength behind Care and I appreciate it even more during these troubled times, to know that we have all of your support. It is indeed the only thing that keeps us going.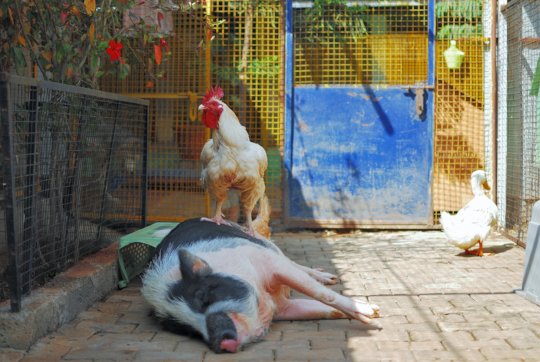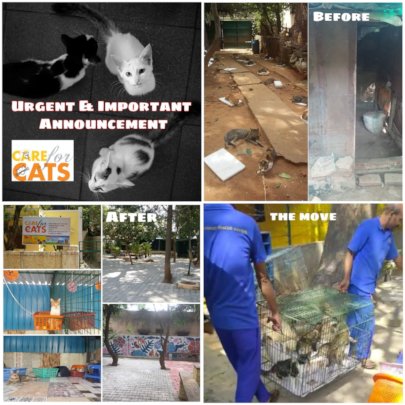 Links:
WARNING: Javascript is currently disabled or is not available in your browser. GlobalGiving makes extensive use of Javascript and will not function properly with Javascript disabled.
Please enable Javascript
and refresh this page.