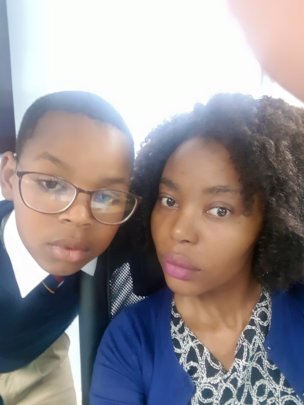 "Thandanani is not an institution, it's a home," says Alleta (28), who now has a life and future thanks to Thandanani House of Refuge in Zandspruit, an informal settlement just outside Johannesburg.
Alleta was born in Pretoria but after her father passed away in 2006 she went to stay with relatives in the informal settlement of Zandspruit. She was 15 at the time and already had a baby boy (Tsheamo).
"Living with our relatives was not a good situation and my baby and I ended up sleeping in shelters most of the time. While I was at school, the woman whose shelter it was and who looked after my baby during the day, tried to give my baby away. Luckily, I had my son's birth certificate with me that day. I had no choice but to put him into a home at the tender age of 2 years.
"In August 2009 I was offered a home at Thandanani while I finished my schooling, intending to stay there only until the end of the year. When I moved in, it was time for my matric dance (Prom) at the school. Thandanani even helped me with a dress etc., it was all like a fairy tale.
"Although the arrangement was that I would leave Thandanani when I finished school, they did not ask me to leave. Instead, they asked me if I wanted to study further. I decided on Marketing and PR and studied full time, graduating in 2012."
Her first job after graduating didn't work out very well due to transport challenges, and Alleta then got a job as a receptionist at a private school. Because she was in a stable job and Thandanani allowed her to stay in a cottage on their premises, she got her son (then 5) back.
"After about two years at the private school, I got a job at an insurance company where I started working in January 2017. I have enjoyed working for them. They are supportive and have helped me to grow my career. They opened an office in the coastal city of Port Elizabeth and offered me a job there, so I relocated to PE at the end of April this year with my son.
"All of this wouldn't have happened if Thandanani had not helped me. I would probably have ended up as an alcoholic or drug addict. But their support gave me the opportunity to make something of my life.
"They are still part of my life. They are my family. Even though I have moved out and on with my life, they still care. They keep in contact and constantly make sure that I am alright. I don't know how to thank them.…"
Links: