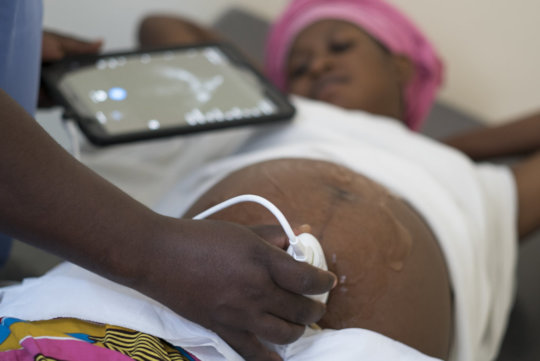 Hope For Our Sisters Inc. (HFOS) is pleased to share our quarterly update with all of the investors in our endeavor to help provide life-saving maternal care through the Maternal Health Fund at the Wellness Clinic in Goma, Democractic Republic of Congo. Because of your generosity and continued support, our partners report that the clinic is as busy as ever! Over November, December and January, 101 cesaren deliveries were performed. None of the mothers who required surgical intervention for a safe delivery were able to pay for their procedure in full, and thirteen women could pay nothing at all. In some places, women will simply be denied treatment if they cannot pay, or held on the hospital grounds until their families can come up with any money loaned to them. Our sisters in Goma are able to return home to other children, spouses and responsibilities, enjoying their babies without worries over catastrophic debts, because of what you have given.
We want to share that the wellness clinic is active in other important aspects of maternal care as well! There were 138 vaginal deliveries there over the three months, meaning women were safely assisted by a skilled birth attendant, which lowers the risk for complications for both mother (i.e. fistula) and baby (i.e., stillbirth). There were also 431 prenatal visits in this same quarter. It is important to know that in DR Congo overall, UNICEF reports a maternal mortality rate (MMR; death of the mother whil giving birth) of 693 per 100,000 live births. This is devastatingly high when compared to some developed countries that boast MMRs as low as three per 100,000 live births. Health education for both patients and the availability of high level care, like that provided by the Wellness Clinic, will help reduce DR Congo's MMR over time - but such change will require resources.
Our main contact with the clinic, Dr. Myron Glick, will be traveling to Goma in April and hopes to have some inspiring patient stories to bring back for us to share. We are honored to partner with providers like him and the other staff at the Wellness Clinic, and especially with you, our amazing friends in this work. Please reach out to us at info@hopeforoursisters.org with any questions about the project or HFOS' work in general. We also invite you to share our project page with your family and friends! The more awareness we can spread about the great need for cesarean deliveries and maternal care in Goma, the more lives we can touch and change together.

Warmest Regards,

Cara Brooks
HFOS Board of Directors Member
Links: