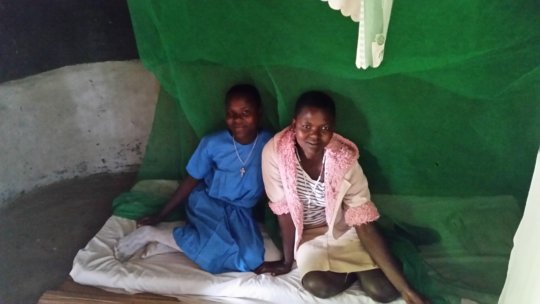 When at Katulikire Health Center I recognized how few drugs they had. They had no doctor, at all, ever, only nurses who completed two year degrees, and no additional training. These woman, just in the morning I was there, managed a snake bite, child birth, and about a dozen cases of malaria.
I was humbled and honored to participate in a net distribution. I have never been so grateful or fulfilled as when seven different students showed me their huts and their mats where they still used nets they had received years ago. Their homes were cement and mud one room round houses with thatched roofs. They grew whatever they could around them and walked barefooted miles to and from school.
Kiryandongo, along the Nile, has one of the highest prevalence of malaria in the country. The people are very poor and cannot afford treatment. I was proud I had done something to help.
I cannot express how grateful I am to you for your past support, to make it possible for us to distribute nets and fix the Katulikire ambulance. They use the ambulance to transport critical patients to an in patient hospital miles away. Without it, the people could not reach the care they urgently need.
My journey in Uganda solidified for me the desire to do international medical work throughout my career. I ate the food, learned a bit of the language, observed and participated in medical care, and made many new friends. I am determined to work hard and return in order to lessen disparities between peoples. Poor health inhibits one's ability to experience aspects of joy. Poor health care robs a mother of her child. Poor resources mean a child may die while driving forty minutes on a boda boda to the emergency room, or a bowel obstruction surgery may not go as well when the electricity goes out and the procedure is completed under the glow of a flashlight. GECC, the ECPs, and the nurses and doctors of Nyakibale are working tirelessly to improve the health and resources of Nyakibale. Now I am determined to do the same.
I thank you again for your support in the past. I've attached a photo of a photo of Lucy and Scovia two sisters who received nets years ago and showed me their home in Kiryandongo, and a photo me giving a net to a P1 student at Livingstone Primary School. Thank you for your support. While I was there, I hope I helped further the efforts of NETwork Against Malaria and improved the care of patients I interacted with. I hope I served the people of Kiryandongo well. I will continue my work with NETwork Against Malaria and will train to serve people in Uganda as a medical professional in the future. I will work towards eliminating barriers to health and happiness.
Thank you for your ongoing support.
With my gratitude and well wishes,
Sincerely,
Mary Claire McGlynn