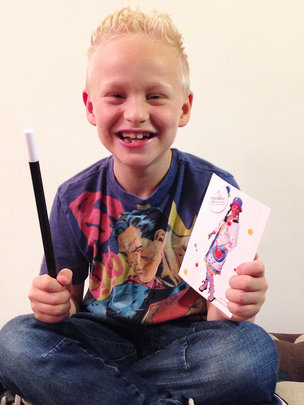 Sammy C. got in touch to tell us about the time her 7 year old son Thomas met Dr Faffy.
When did Thomas first become ill?
"Thomas went on a nature walk with his school. When his teacher wasn't looking he picked a mushroom which unfortunately turned out to be toxic. At first his school thought his symptoms were the result of hay fever but knowing he doesn't suffer from it I was instantly concerned. We soon realised the toxins from the mushroom had been absorbed through the pores in his skin. His face had swollen to twice its normal size and his eyes had begun to close and go blood shot.
I took him straight to the A&E department of Glan Clwyd Hospital in Rhyl. On arrival we were seen by doctors who told Thomas that he would have to be admitted. Whilst we were waiting I saw two Giggle Doctors entertaining children and their families. They were laughing but I didn't pay much attention, I was too worried about Thomas and his condition."
When did Thomas first meet the Giggle Doctors?
"Once settled on the children's ward Thomas had a series of blood tests to check whether the toxins had affected his organs. He hates needles and was in floods of tears. Dr Faffy appeared on the ward at just that moment and began blowing bubbles and singing songs. She went around the room, entertaining each of the children there. Thomas and I had been in the hospital for 5 hours by that time but Dr Faffy soon made us forget why we were there. She didn't pass judgement or comment on how his face looked, she looked past all that, concentrating solely on cheering him up. She sang funny songs and encouraged him to take part in some magic. There was such an aura about her in that single moment; she made all the day's events just fade away. Even the nurses got involved, singing along and bursting the bubbles that Dr Faffy had blown. In my eyes it made them seem human and 'nice' as Thomas put it; more than just someone in a blue or green uniform. Another hour passed and Dr Faffy was still going around the wards and the play room. She came back to Thomas and me to sing a song but first made him a balloon banjo. He played along with Dr Faffy with a huge Cheshire cat smile on his face. She gave him a certificate for being so brilliant."
How did Dr Faffy help?
"There's a beautiful quote which I think sums up what the Giggle Doctors do for sick children and their parents. "When the world says 'give up', hope whispers, 'try one more time'". Hope is sometimes found in the smallest of things. One person saying 'hello' or singing breaks down barriers and no matter how sick a child may be laughter helps the heart beat on and gives hope and comfort.
Dr Faffy touched our lives in one single moment with a smile, music and lots of bubbles. She made our stay on the ward easier and helped us to forget about why we were actually there. Even now, Thomas is still talking about his visit from the Giggle Doctor. He now believes magic is not just in Harry Potter movies…he has the wand to prove it."
Thank you so much for helping us to bring smiles to children like Thomas. We really appreciate your support.