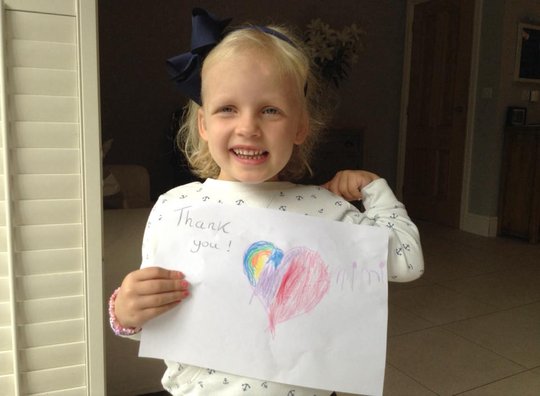 The work of the Theodora Children's Trust makes such a difference to children and their families at such difficult times. We can't thank you enough for your support.
Yvette C recently got in touch to tell us about how the Giggle Doctors helped her daughter Mimi:
Why was Mimi first admitted to hospital, and how did she feel?
Mimi was first admitted to hospital in June 2013. She had been extremely tired and used to sleep a lot. She then developed a squint and started to vomit in the mornings so we took her to the Opticians, who advised we take her straight to hospital. Mimi was sent for a MRI scan and the results showed a tennis ball-sized tumour in her head.
When did Mimi first meet the Giggle Doctors?
At first we spent a lot of time at Addenbrooke's Hospital in Cambridge. It was there that we first met the Giggle Doctors. Mimi was only 3 and I think she was overwhelmed and confused about being in the hospital. She loved interacting with the Giggle Doctors though; it was a real treat for her.
After Mimi's initial operation in June we were allowed to go home and were out of the hospital for 3 months. However, in September 2013, another MRI scan showed that she had hydrocephalus and that half of the tumour they had removed had grown back! We were devastated and set to start chemotherapy ASAP but were told that first the hydrocephalus had to be sorted out with a shunt.
One of my favourite moments with the Giggle Doctors was on the day of this operation. Mimi and I were waiting for hours on the ward. Mimi was nil by mouth and very lethargic. That was, until the Giggle Doctors walked into the playroom and blew some magic bubbles for her! She was running around with the most beautiful big smile on her face. It turned out to be her last moment of fun before everything went wrong. In hindsight this became my most treasured Giggle Doctor moment. Mimi did not respond well after the operation and to this day we still don't know why this happened. She was having seizures and had to go into intensive care for a while.
After her stay in intensive care we were on the ward for 8 weeks. We saw the Giggle Doctors quite often there and it was lovely. When Mimi and I saw them go into another room first we would excitedly wait for them to come into our room. Mimi loved the balloon animals and would really giggle. I have a clip of it somewhere. It made me well up as it was like our 'old normal' Mimi was coming through all the misery she went through.
How did the visits change Mimi's experience of hospital?
At the hospital you live from visit to visit. Doctors, Physios, Nurses etc..but the highlight for Mimi was always the Giggle Doctors, and it was the same for all of us. It helped us to have that little happy laughing moment once in a while, during a very worrying and stressful time.
We still make regular visits to Addenbrooke's Hospital to receive chemotherapy, eye tests, attend endocrine appointments etc. Mimi still goes to the hospital in good spirits; not once has she told me she doesn't want to go. This is thanks to the Theodora Children's Trust and the Giggle Doctors!