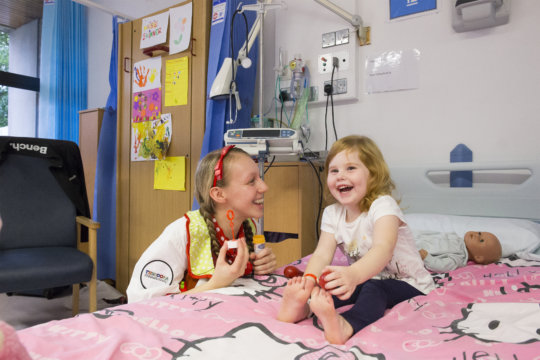 Theodora Giggle Doctors visit children in 20 hospitals across England, including Addenbrooke's Hospital in Cambridge.
Every Thursday two of our specially trained performers visit this hospital, brightening the days of the children and their parents there.
Charlotte got in touch to tell us about the difference the Giggle Doctor visits make to her daughter Maisie...
"Maisie has been admitted to hospital 10 times in the last 15 months (most of which have been for 2 week periods at a time). When she was first admitted she was a little frightened as she didn't know what to expect. The Giggle Doctors really helped to make her relax and forget her surroundings. They are all fantastic.
Maisie absolutely loves the Giggle Doctors. Dr Fab is her favourite and we see her quite frequently at Addenbrooke's Hospital. Maisie's clinic days are on Thursdays, the same day as the Giggle Doctor visits, so every week she looks forward to seeing them. Thursdays are now her favourite days!
All of the Giggle Doctors we have come across have been absolutely FANTASTIC, they change the atmosphere and for the time they are present Maisie has such a fun and memorable time, she really has a 'giggle' and as a parent it is great to see. It makes me smile to see her smiling and laughing with them. They dance around and sing with her, it's magical to see, she just LOVES them.
Maisie often talks about the Giggle Doctor visits outside of the hospital. They make a big difference to how she views her hospital visits, making the experience more positive.
The Giggle Doctors really are brilliant and live up to their name. For her birthday Maisie even asked for a ukulele so that she could be just like Dr Fab!"
Thank you for helping to fund these magical visits. Every £10 ($15) helps us to bring a smile to another child, like Maisie, going through a challenging time.