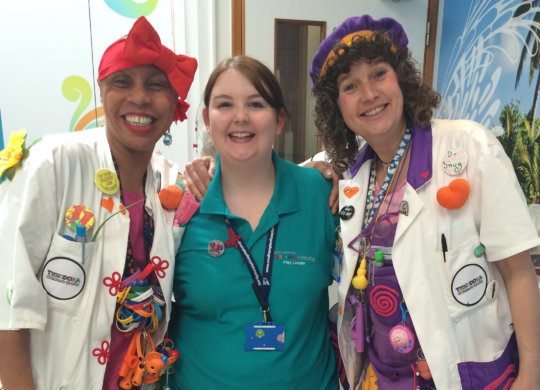 Giggle Doctors provide laughter and joy to sick and disabled children during difficult times. We visit hospitals, hospices and specialist care centres and often our magical Giggle Doctor moments have a lasting impact for the children visited.
Michaela's heart-warming story is a wonderful example of how a Giggle Doctor visit can make a huge difference. She first encountered the Giggle Doctors as a patient 10 years ago. It had such a positive impact during her hospital stay, that she was later inspired to train and become a hospital Play Leader...
When did you first meet the Giggle Doctors as a child?
I first met the Giggle Doctors when I was 14, almost 15 (that was back in 2005, I'm 26 now)
How did the Giggle Doctors make a difference to your experience of hospital?
They put a smile back on my face. They made the whole experience so much better. Looking back at it now, I don't remember any of the things that happened to me whilst in hospital or to do with the surgery, but I remember Dr GeeHee coming to cheer me up.
Did the Giggle Doctors influence your choice of career?
A few years after my surgery, when I turned 18, I started working as a Health Care Assistant in A&E Southampton Hospital. I used to love watching what the Giggle Doctors did with the children and how happy they made everyone. A few years later I got a job as a Play Leader and I remember thinking I'm one step closer to being an honorary Giggle Doctor. I even have my own Giggle Doctor name, Dr Bubbles!
Why do you think the work of the Giggle Doctors is so important?
Some of the children on the oncology unit I work on as a Play Leader can be in for ages, so having the Giggle Doctors come in is something to look forward to. The work they do is priceless. They will work with children through procedures, hard times and just be generally entertaining and amazing.
What's your favourite memory of the Giggle Doctors?
This is such a hard question for me to answer, as every time I see them it makes me smile. It is my favourite day of the week.
Thank you so much for supporting the Theodora Children's Charity and for bringing laughter to children who need it most.
One day we hope to be able to bring magical Giggle Doctor moments to all children who need them, and with your help we're inching ever closer to that dream.
Links: