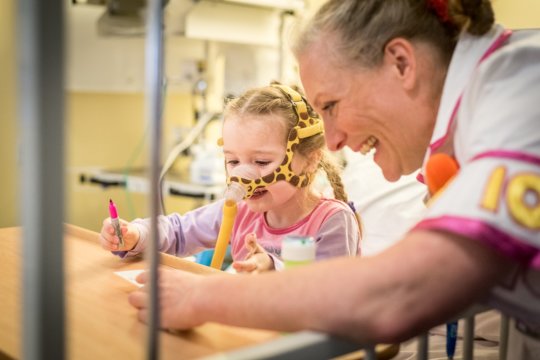 Our Giggle Doctors have been very busy giving joy and laughter to sick and disabled children this summer. We are very excited to share with you our latest updates and tell you about the difference we have made thanks to your support.
Our Autumn/Winter Newsletter is available for download:
Download our latest newsletter to read about Emily's special friendship with Dr Ding Dong. Emily first met Dr Ding Dong when she was one. Now Emily is 3 1/2 and her mum shares how they have formed a special bond since that first visit.
"Emily has been in hospital quite a lot now, she recognises all the Giggle Doctors and she reacts to them and she enjoys it. But when Dr Ding Dong visits, you can see that there is a special bond they have between the two of them. It definitely has a really positive impact on her which will last a very, very long time. I just think it is amazing and it is so important for all hospitals to have Giggle Doctors."
You can also find out about our upcoming events and read all about the incredible support we have received from our supporters. Download our latest copy here: https://uk.theodora.org/en-gb/news-and-events/autumn-winter-newsletter-2017
Our Giggle Doctors are visiting a new hospital:
We are very excited to announce that a brand new Giggle Doctor programme has started at St George's Hospital in Tooting!
Two Giggle Doctors will be visiting St George's Hospital every other week and brightening the wards with music, magic, laughter and play. Now even more sick and disabled children will experience the joy and laughter of a magical Giggle Doctor visit!
We've been shortlisted to win £500 of charity prizes:
Theodora Children's Charity has been shortlisted to win £500 of charity displays. As we are a small charity, winning would make a real difference and help us get resources we otherwise wouldn't be able to afford.
We're down to the final three but need your votes to win. Help our Giggle Doctors and please take the time to vote here. Every vote counts!
Thank you for your support:
As ever, we are so grateful for your generous support and for all of the smiles you have made possible for sick and disabled children. Every £10 funds a magical Giggle Doctor visit for children in often distressing situations, offering smiles and relief during their medical treatment.
Your support enables us to reach children who so desperately need giggles. Children like Jack:
"My son Jack, who is four years old, was in the hospital to have his second open heart surgery for a sub aortic membrane. It was in July that he met Dr Teapot for the first time.
Jack had just had drains and cannulas removed, plus bloods taken ad scans carried out. He was also not eating or drinking, so he was exceptionally lethargic and upset.
Dr Teapot helped to distract him from the environment he had been living in for over a week. They helped him to feel like a 'normal child' again.
Play in hospital is crucial to help children remain children. Being in a hospital environment can really affect a child's self-esteem and psychological well-being. The visit has helped Jack to realise that not everything that happens during a hospital stay has to be negative. Jack is looking at more open heart surgery in the future and it helps to remember the fun times of Dr Teapot's visit.
Thank you so much for your generous support and for helping us make these magical moments happen.
Links: