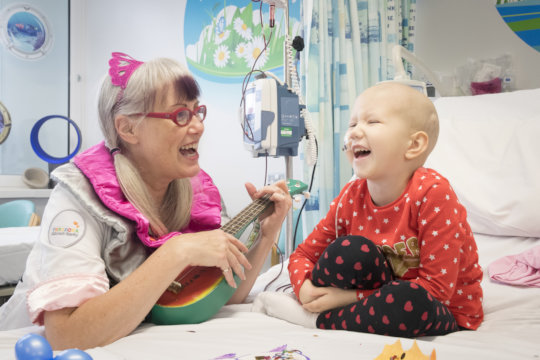 Thank you so much for choosing to support our Giggle Doctor programme through GlobalGiving. At the Theodora Children's Charity, we believe that all children deserve laughter. By combining music, play and storytelling, Giggle Doctors improve wellbeing and bring magical moments to children facing huge challenges with their health.
The best way to show the impact of your support is to share with you some of the wonderful feedback we receive from families of the children we visit.
Hayley recently got in touch to let us know the difference our Giggle Doctor visits have made for her daughter Pippa.
"I just wanted to say a huge thank you to all the Giggle Doctors for everything they do. Our daughter was diagnosed with a rare Leukaemia last year and then sadly relapsed in April meaning more treatment. She has just had a stem cell transplant and has spent most of this year and a bit in hospital. On every single visit from the Giggle Doctors, they have made her (and us as parents) smile and laugh. She is currently in isolation and was so excited when today she saw Dr Dotty (who, out of all the Giggle Doctors she has seen, is Pippa's absolute favourite!!). I just had to tell you how fantastic the Giggle Doctors are and the impact they have on poorly children. Thank you!"
During their visits, our Giggle Doctor visits aim to:
Reduce distress and anxiety
Increase opportunities for play in the healthcare environment
Improve wellbeing
Each interaction is tailored to the child and the Giggle Doctor visits are designed to provide whatever the child needs at the time, whether it's a joke, a song or simply companionship.
"Thank you so much to the Giggle Doctors for visiting my son today while in Sheffield Children's Hospital having blood transfusions. You really cheered him and me up. What you do is amazing. I haven't heard my son laugh like that is such a long time (well probably since the last time he saw you). Thank you so much!" Parent
Measuring the impact of your support
We work hard to develop the amount and range of feedback we collect to measure the charity's impact and we are committed to providing the best possible service that we can. Our online survey is open for feedback from parents and guardians all year round. We also collect feedback from the hospital staff and parents during our Impact Focus Days. Here are some of the results:
93% of parents/guardians believed that the Giggle Doctors reduced stress and anxiety for their child whilst in hospital.
100% of parents/guardians believed that the Giggle Doctors increased opportunities for play for their child whilst in hospital.
93% of parents/ guardians believed that the Giggle Doctors improved the mood of their child whilst in hospital.
100% of hospital staff rated the Giggle Doctors as excellent or very good.
"I just wanted to say how much Dr Geehee and Dr Whoopee brightened up my little boy's day at The Royal Alexandra Hospital, Brighton. They were so funny and the magic was great! On his way home from hospital he said 'this was a fun day!'. Thank you so much." Parent
How your support helps children like George
We recently spoke to Ruth, George's mum about George's experience of the Giggle Doctors.
"George went into the Royal Marsden in January and we were there for six months. We went home for short periods of time inbetween but on the whole, we were at the hospital for the majority of those six months. He was just four years old when he went in, and had his 5th birthday in hospital.
It was a very long time and there were phases when we couldn't see anyone else. Either George wasn't well enough or they weren't well so we often had long periods by ourselves.
George was really miserable in the beginning when he first went into hospital. He wasn't one of these run around and put on a show children. He was really poorly and not interested. When anyone came to visit he showed exactly how he felt. He wasn't planning on putting on a brave face for anyone.
It was hard going but the Giggle Doctors didn't give up on him. When it was just me and him he found it a bit much but he loved watching them with other people. They kept trying to involve him. They wouldn't be in his face or over the top but they did things that made him curious and eventually they won him over which was great.
That first time they really got him involved, they made his toys squeak and then all of a sudden, he was there with them and enjoyed it all. He realised that it was fun and that there was no pressure on him which was really great. A lot of the children were happy to go along and join in with the Giggle Doctors and I think he felt like he had to do that too but when he realised he could just sit there and watch without feeling under pressure he was really happy.
At the beginning of our stay in hospital, we were so grateful for the Giggle Doctors as it was a bit of light-hearted relief. It's an amazing thing and we love them. It's such a long stretch of time to be in hospital. They are one of the only nice experiences so we have fond memories of them but not the rest of it.
George is now able to remember some of the good parts, rather than just the bad parts. He remembers the Giggle Doctors; playing snowballs with cotton wall or paper. It was lovely to see him smile. He was so unhappy so just to see him smile for a little while when they were there was nice.
When they first came around we were like oh my gosh, this is brilliant. Each of the Giggle Doctors have their own way of making everyone feel happier because it's not just for the children, it's for the whole family. It's a wonderful feeling. Every visit made you feel euphoric".
Thank you
From everyone at the Theodora Children's Charity, we want to say a big thank you for choosing to support our Giggle Doctor programme and making magical Giggle Doctor moments possible for children at a time when they need it most. Without the generosity of supporters like you, our work really wouldn't be possible.
If you have any questions or would like to talk further about our work, please feel free to get in touch.