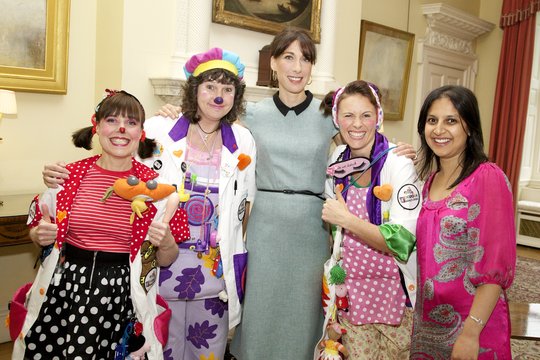 On Tuesday 12th June we were honoured to attend a reception hosted for us by Samantha Cameron at 10 Downing Street. It was a lovely evening and a great opportunity to thank our supporters.
I would love to share with you a lovely story we received from Dr Bungee after a recent visit to North Manchester General Hospital:
A bored teenager, in a bay with a baby, makes eye contact with the most unlikely character..."Dr Bungee?" she says, slightly bewildered by the outfit and unsure whether the bucket is meant to be on his leg. "How old are you today?" Asks Dr Bungee..
"13" comes the reply with a sideways look...
"Happy Birthday! 13 today!"...
"No- not today! She laughs with her head in her hands"
"Then how old are you really if you're not 13?"
"I am...but not today!...I mean...I am...well! I don't get it!" She says laughing with her dad.
"Oh- you mean it's your un-Birthday today!"
"Yeesss! It is!" she said with a grin
"Do you know what?" Said Dr Bungee
"What?" she replied anticipating what was to come...
"It's my un-Birthday today!"
They played pass the un-birthday present, had an un-birthday cake and had an un-birthday goody bag to take home. Then Dr Bungee realised he had to go and get ready for his own un-birthday party the very next day to which the girl realised it was also her un-birthday tomorrow...and believe it or not it was her dad's as well! Then she realised that they couldn't sit around being bored any longer...they had to plan for 364 un-birthday parties. They thanked Dr Bungee for coming to their un-birthday party and hoped to see him again.
We have been sent so many lovely letters and emails from parents of children who have loved meeting our Giggle Doctors. Below is a message from a parent at Great Ormond Street Hospital:
A big thank you to Dr Jimmi Jammi. My son finds speech difficult and Dr Jammi sang a song about Superboy, which Adam sang all the way home! From the bottom of my heart, thank you for making a tough day not so tough. Bless you.
This summer we are recruiting for 12 new Giggle Doctors who will bring smiles to thousands more poorly young patients across the UK.
Thank you so much for your support, without which such magical moments would not be possible.