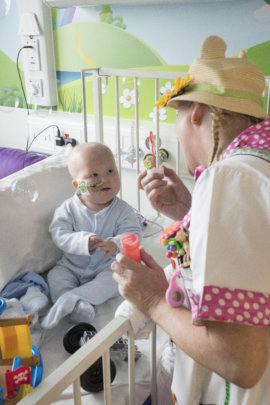 We want to say a big thank you for your very kind support for our work through Global Giving. At the Theodora Children's charity, we improve children's experience of hospital. By combining music, play and storytelling, Giggle Doctors improve wellbeing and bring magical moments to children facing huge challenges with their health. We have been visiting children in hospitals, hospices and specialist care centres across England for 25 years. Last year, our 24 Giggle Doctors visited more than 33,000 sick and disabled children.
The best way to show the impact of your support is to share with you some of the wonderful feedback we receive from families of the children we visit.
"I just wanted to say Dr Geehee and Dr Whoopee really brightened up my little boys' day in hospital today. They were so funny and the magic was great! On his way home from hospital he said "this was a fun day!". Thank you so much!".Parent
"My grandson laughed so much during his visit from the Giggle Doctors that the fluid in his lungs after heart surgery came out at a rapid rate! I'm sure the visit from the Giggle Doctors helped speed up his recovery. Thank you."Grandparent
A more positive experience in hospital has been shown to aid recovery and the Giggle Doctors change the energy in the room, simply by being fully present for each child.
During their visits they aim to:
Reduce distress and anxiety
Increase opportunities for play
Improve wellbeing
Each interaction is tailored to the child and the Giggle Doctor visits are designed to provide whatever the child needs at the time, whether it's a joke, a song or simply companionship.
"My daughter didn't want to talk, eat or drink after her operation but then Dr Snug and Dr Geehee appeared and worked their magic. She ate, drank and spoke! She even got up and danced. Thank you so much!" Parent
"We all know hospitals can be frightening and boring places for children, however, that is not the case when the Giggle Doctors are around. The children are relaxed, happy and excited; the perfect prescription for sick children". Hospital Play Coordinator
Measuring the impact of your support
We work closely with hospital staff to monitor the quality of our work through regular meetings. We collect feedback from children's families through our online survey which is open all year round. This provides us with detailed information about the impact of the Giggle Doctor visits. We also carry out in depth interviews with parents of children who have been seen by the Giggle Doctors and who are keen to share their story with us. Through this we are able to learn more about their child and the impact our visits have had. In addition to the parent feedback survey we also send out a survey to NHS staff twice a year.
"They always bought a smile to my child's face and distracted her from her gruelling treatment. It was wonderful to be able to appreciate small moments of laughing together, a great stress relief for all of us at a very hard time. They are just magical!"Parent
How your support helps children like Pippa
We receive lots of feedback from families about how our Giggle Doctors have made an impact for their child and we wanted to share this story we received from Hayley, Pippa's Mum about how our Giggle Doctors have helped Pippa to really show the impact of your support:
"Pippa was diagnosed with Burkitts Leukaemia in September 2017 when she was seven years old. We're from Brighton but she only spent four days there before being transferred to Southampton and then quickly to The Royal Marsden. Pippa was coming to the end of her treatment but unfortunately during her end of treatment tests, they discovered that she had relapsed. That was in July 2018. Because she had relapsed, she couldn't have the same sort of Chemotherapy that she had been having, so she had to have a stem cell transplant. Pippa has three sisters and thankfully, her eldest sister was a 100% match and was the donor. She had the stem cell transplant at the end of October 2018 at The Royal Marsden and it was a great success.
Pippa regularly sees the Giggle Doctors at The Royal Marsden Hospital. I can't tell you how much she has enjoyed their visits. It's made a big difference to her time in hospital. Every single Giggle Doctor without fail has made her laugh. They have lifted her spirits 100%.
No matter how rubbish she is feeling, she immediately perks up when she sees the Giggle Doctors, even if they are not in her room. Then obviously when they do come in, it's just amazing. The impact that they have on her even if she's feeling rubbish, she totally changes. It gives her a buzz. I get in tears of laughter from it too. I think they are brilliant. I could sit for hours with them.
Being in isolation is very hard for Pippa as she is quite a spirited young kid and she likes to be out there. Being away from home is also difficult. Whilst she is in isolation, the Giggle Doctors can't come into the room but they can stand at the door and talk with her. This really cheers her up.
Recently, there was a party for all the children on the ward but because Pippa was in isolation, she couldn't go to the party. It got to the middle of the afternoon and she'd seen the Giggle Doctors but they hadn't been in to see her yet so I went and looked for them. I saw Dr Dotty and I asked if she could come and see Pippa. About half hour later Dr Dotty and Dr Bananas both came in and spent a good 20 minutes with her. Pippa made them have a sing off which was brilliant. She was just full of smiles then. It was lovely. Dr Geehee and Dr Dotty also remember her from when they met her at Brighton too which is nice.
I've got no other words apart from they are fantastic. Please keep doing what you're doing".
Thank you
Thank you so much for choosing to support our Giggle Doctor programme, enabling us to bring fun and laughter to children in hospital at a time when they need it most. Without your support, our work would not be possible.
If you have any questions or would like to talk further about our work, please feel free to get in touch.