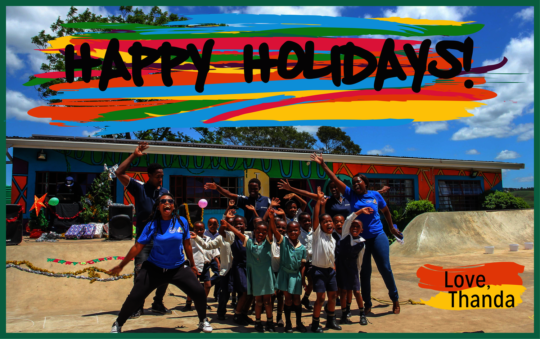 Disrupting a challenge isn't easy.
It requires that we pause, look around and observe our world rather than getting caught up in the mundane. It necessitates that we think critically about our situation, our environment and how it is all interconnected. And, that we confront these challenges with resilience and strength, empowered by what we have learned and our own capabilities. Then, we can create disruptions.
Our community faces many challenges every day. Some children suffer from stunting due to a lack of healthy foods to eat and some adults struggle to find employment and feel disempowered. Some youth receive a low quality education and do not graduate high school, while others have too many responsibilities and began bullying in school. With your help, we are disrupting challenges like these every day at Thanda. Your support allows many people in our community to become the hero of their own story to create a future they are truly proud of.
Over the past two months, we've shared disruption stories from the amazing people in our community who have faced challenges and succeeded in completely destroying them! Here are some of our favourites.
Neliswa and Lwazi:
Nanini-Nanini farmer and mother, Neliswa, is happy that her son, Lwazi (age 4), is now learning every day, saying, "I really like that my son is in Fun Foundations (a new early learning extension programme at our farms). Now, he comes home (with me) every day and shares what he has learned. He can count to ten, he knows the difference between small and big and can sing many songs about parts of the body, even in English. He knows what school is now and likes it. It will help him for Grade R, which he is starting in January. He had no ECD experience." Neliswa is happy to have joined the Thanda family, seeing benefits for herself and her family. She added, "Before Fun Foundations, he (Lwazi) would be at home doing nothing constructive. I would have to work or we didn't have the things for him to play with. Now he is learning while I can farm." When we asked Lwazi what his favourite part of Fun Foundations was, he said "being in a circle and singing", then he broke out in song singing "if you're happy and you know it" – he is so cute! Read more...
Zande, Hlengiwe and Nokuthula:
When Zande started at Thanda ECD she could not speak and her mother was concerned she had a permanent disability. Thanda's Head ECD Facilitator, Nokuthula, said she used to put her teeth together and when she would try to speak she would making a humming sound. So Nokuthula practiced activities with her that she had learnt during her ECD training, such as blowing balloons and singing certain songs to open up her mouth and use those muscles.
Nokuthula said "Because I didn't want to take Zande out of the group, I did the activities with all of my kids. I think by March or June she was able to speak well, and then her mother came to Thanda to say thank you." Zande's mom, Hlengiwe was so grateful and said "At Thanda, children get together with other children and teachers give them love, she (Nokuthula) takes care of my child." Because of doing those activities and having ongoing communication with Hlengiwe we were able to help further outside of the classroom and at home.
In fact, Hlengiwe was so grateful that she decided to come and volunteer at Thanda as an ECD Assistant this year! As for Zande, she is just finishing Grade R with passing grades!
Smiso:
Smiso, an After-school Facilitator of ten years, says there are so many challenges he has faced, but all of these obstacles have made him the person he is today and a better mentor to his students. He continues, " I lost both my parents when I was fourteen and I really wasn't ready to be in their absence. It was hard at that time because I depended on them for so much, emotionally and physically, but I believed things would get better and I was able to overcome this challenge."
In 2008, he joined Thanda and after that everything changed. Smiso felt more confident and finally, with work and purpose, he felt his life had truly started. In class, he is extremely jubilant and caring. Looking back at his challenges, now they are given meaning. He says, "I love to work with kids because they remind me of myself growing up. They also have many challenges and now, I am able to help them. I don't want to see them give up because something is tough. Losing my parents helps me to relate to children in my class who need to open up and talk about issues they would normally talk to their immediate parents about. I understand their behaviour and that they are behaving in this way because of some outside issues, it's not just because they are that way. The behaviour of a person tells you where that person comes from." Read more...
All of these disruptions have happened because of you and are an example of what your generosity means to everyone in our community. From our staff, ECD and after-school participants, farmers and community members, we are so grateful.
We're so close to our year-end fundraising goal for 2018. In fact, we only have $3,296 left! If you'd like to make a tax-deductible donation before the end of the year, visit our Project Page.
We hope you have enjoyed a wonderful festive season filled with love.

Love,
Thanda