The CYEC established our pre-school in January 2012. Its main aim is to give the children quality education and enable them to have a firm schooling foundation and create an all round pupil at the end of their pre-school life. Our school has an excellent reputation for high performance. It's a community based school where we impact the lives of not only the children at the Centre but also the community around us so that we can eradicate illiteracy from our community completely
It started its operations with with eight children, three from the Centre and five from the community around it. By the end of its first year there were 20 children with one teacher, Mrs. Magdaline, who taught all of them under one roof. The classes are categorized into class 1 for children aged 3 years, class 2 for children aged 4 year and class 3 for children aged 5 years who will later proceed to join various primary schools.
After the children have successfully gone through the process they graduate so that they can join Primary school. The first graduation of 15 students was in 2014. This year we are proud to have hosted another graduation on 12 November where we had 12 graduates. The aim of this graduation was to celebrate the three years we have had with the children and to bring on board all the people involved in educating these children. It also helps the children know that working hard at school has its reward.
We currently have 38 children and hope that by next year the number will increase due to our high standards and our potential growth. Due to this we will be able to divide the three classes so that each class should have its teacher. We are also hopeful that we shall have a variety of extra curriculum activities and also recreational activities to aid in making the students' life more enjoyable and children friendly.
Your support helps make this possible! Please consider making a recurring gift this year to help support the education of these children!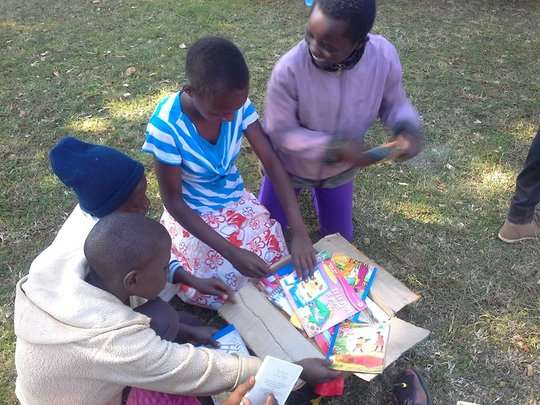 The Children and Youth Empowerment Centre is growing to better serve our current children and reach out to more children in the area. We are expanding into a nearby community of Ngaini where we are renting land with five acres and a small facility to provide a home-like space for weekend activities and events focused on our younger children. There are various themes for the weekend events, with literacy and play-times a constant. The facility also provides a space for staff training and land to grow corn and vegetables.
We recently invited families in Ngaini to visit our new home and share our love of books and learning, as shown in the photos. Children in the area are hungry for more opportunities to learn and grow, and we're thrilled to have a space exclusively for our little ones.
Your support makes this possible! Global Giving is holding a Bonus Giving Day on Wed. 16 Sept. Starting at 9.00 EDT (8 CDT), all gifts will be matched at 30% while funds last. Please take advantage of this time to make your gift go further! There will be another opportunity in October if this one sneaks past!
Thank you very much! Asante sana!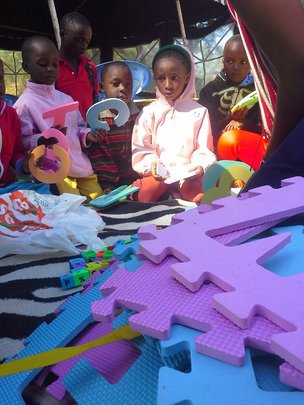 The agriculture program at the CYEC is going strong! Five youth are renting individual plots in the shamba (garden) and growing vegetables to sell to the Centre and to buyers in the community.They provide the Centre kitchen all the leafy greans they need as well as peppers, onions, and potatoes. They're earning enough to pay their college fees and put some away for savings! The two cows produce enough milk to give all the children a cup with breakfast, with the remainder sold locally. Dan, the nurse, notes this has helped their nutrition significantly.
The three youth with the hay business continue to do well. They regularly have jobs cutting and baling hay as well as making and selling manual balers. With Penn State University, they've received a grant to expand this business model to other youth centers in Kenya. We're excited to be able to replicate what we're learned to help others!
Finally, several youth recently attended training on bamboo propagation at the Kenya Forestry Research Institute. Bamboo is versatile and environmentally friendly – it purifies water and helps prevent soil erosion and can be used to construct furniture, fencing and homes, or to make charcoal or jewelry. We plan to start production at the eco-village site in Othaya.
Your support of these programs supports income-generation for the youth and nutrition for the children! Thanks for all you do!
WARNING: Javascript is currently disabled or is not available in your browser. GlobalGiving makes extensive use of Javascript and will not function properly with Javascript disabled.
Please enable Javascript
and refresh this page.