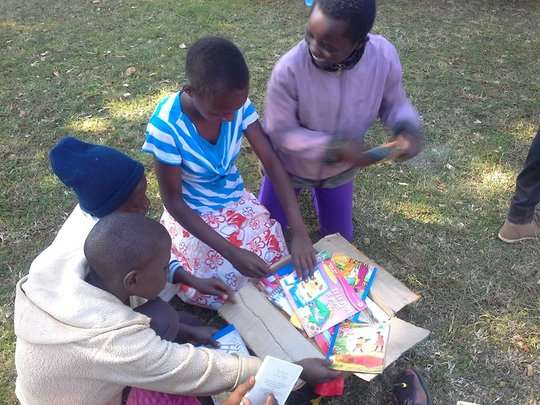 The Children and Youth Empowerment Centre is growing to better serve our current children and reach out to more children in the area. We are expanding into a nearby community of Ngaini where we are renting land with five acres and a small facility to provide a home-like space for weekend activities and events focused on our younger children. There are various themes for the weekend events, with literacy and play-times a constant. The facility also provides a space for staff training and land to grow corn and vegetables.
We recently invited families in Ngaini to visit our new home and share our love of books and learning, as shown in the photos. Children in the area are hungry for more opportunities to learn and grow, and we're thrilled to have a space exclusively for our little ones.
Your support makes this possible! Global Giving is holding a Bonus Giving Day on Wed. 16 Sept. Starting at 9.00 EDT (8 CDT), all gifts will be matched at 30% while funds last. Please take advantage of this time to make your gift go further! There will be another opportunity in October if this one sneaks past!
Thank you very much! Asante sana!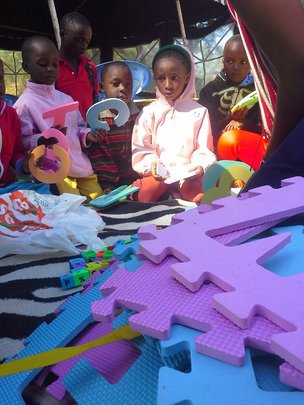 The agriculture program at the CYEC is going strong! Five youth are renting individual plots in the shamba (garden) and growing vegetables to sell to the Centre and to buyers in the community.They provide the Centre kitchen all the leafy greans they need as well as peppers, onions, and potatoes. They're earning enough to pay their college fees and put some away for savings! The two cows produce enough milk to give all the children a cup with breakfast, with the remainder sold locally. Dan, the nurse, notes this has helped their nutrition significantly.
The three youth with the hay business continue to do well. They regularly have jobs cutting and baling hay as well as making and selling manual balers. With Penn State University, they've received a grant to expand this business model to other youth centers in Kenya. We're excited to be able to replicate what we're learned to help others!
Finally, several youth recently attended training on bamboo propagation at the Kenya Forestry Research Institute. Bamboo is versatile and environmentally friendly – it purifies water and helps prevent soil erosion and can be used to construct furniture, fencing and homes, or to make charcoal or jewelry. We plan to start production at the eco-village site in Othaya.
Your support of these programs supports income-generation for the youth and nutrition for the children! Thanks for all you do!
Education is a ladder that can lift a child out of poverty. For Steve B, however, enrollment in primary school moved his family in the opposite direction. The financial strain of paying for school—which includes tuition, uniform costs, and activity fees— proved too great for Steve's single mother, and soon, hunger became an everyday reality for Steve and his family. Steve was dismissed from his primary school in order to retrieve the overdue balance of his school fees, only to be confronted by his mother, who asked, "Am I to feed my children, or pay for school fees?" It's an impossible dilemma for a mother to find herself in, and especially difficult for a child with a desire for a better life. Steve's mother chose to feed her family.
Steve left home, vowing never to return to school again. He spent the next two years of his young life as a street child in Nanyuki and Nyeri, fending for himself. It was in these very streets that a good Samaritan approached Steve to tell him that he could find a safe home at the Children and Youth Empowerment Centre. Since then, Steve has returned to school and has hope for a brighter future. He recently received a prestigious Wings to Fly scholarship from the Equity Foundation and has started secondary school.
Your support helps educate and prepare young people such as Steve. Thank you so much!
WARNING: Javascript is currently disabled or is not available in your browser. GlobalGiving makes extensive use of Javascript and will not function properly with Javascript disabled.
Please enable Javascript
and refresh this page.